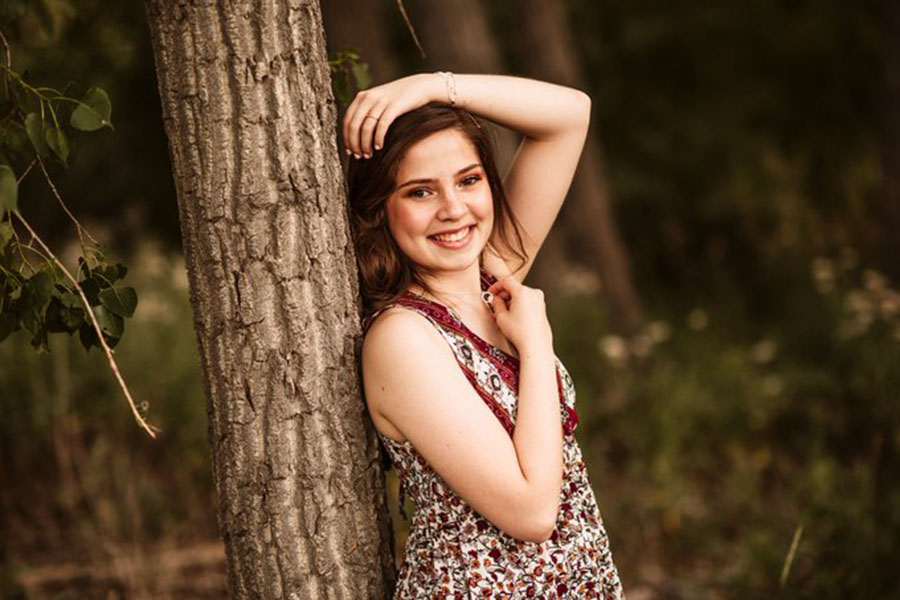 Hi! My name is Crystal Garza. I'm a senior at AHS, and this will be my third year writing for the SPUD. I'm the oldest daughter of Richard and Oneyda Garza. I have one younger sister, Jessyca, who is a sophomore at the high school.
My favorite school activity that I do is cheerleading. This year will be my fourth year cheering for the bulldogs. This year I'm cheer captain along with Maycee who is also a staff writer. I am anxious to see what this last season holds for me this year! In my free time I enjoy watching movies, listening to music, and spending time with family and friends. I would consider myself a very selfless person overall, as well as an introvert; however, I'm also a very passionate person, I love all that I do.
After high school, I plan to attend CSC to start my education into Physical Therapy. I'm excited to create new memories and experiences this year writing for the SPUD!
Crystal Garza, Editor
Apr 26, 2020

My Senior Farewell

(Story)

Apr 16, 2020

Remembering the Class of 2020

(Story)

Apr 08, 2020

Coronavirus Conspiracy

(Story)

Mar 26, 2020

Why Toilet Paper?

(Story)

Mar 22, 2020

Colby Burri: A Positive Outcome

(Story)

Mar 19, 2020

A Different End to the Year

(Story)

Feb 27, 2020

Senior Side: A Last Time at Home

(Story)

Feb 20, 2020

AHS Senior Artists

(Story)

Feb 05, 2020

A Latino Influenced Super Bowl

(Story)

Jan 28, 2020

Mamba Memorialized

(Story)

Jan 19, 2020

Netflix's "Cheer"

(Story)

Jan 09, 2020

A New Generation of Wildcats

(Story)

Dec 18, 2019

Boys Basketball Preview: 2019/2020

(Story)

Dec 06, 2019

Senior Side During the Holidays

(Story)

Nov 25, 2019

Northside: The Experience of a Lifetime

(Story)

Nov 14, 2019

Changes in Christmas Break.

(Story)

Nov 07, 2019

The Stigma on Community Colleges

(Story)

Oct 30, 2019

"The Second Coming"

(Story)

Oct 29, 2019

ACT changes coming 2020

(Story)

Oct 11, 2019
Sep 30, 2019

CSC Journalism Conference 2019

(Story)

Sep 20, 2019

And Now I'm a Senior

(Story)

Sep 16, 2019

Football Preview: 2019

(Story)

May 15, 2019
May 07, 2019

Upcoming Music: May 2019

(Story)

Apr 29, 2019

The Avengers: the End of an Era

(Story)

Apr 25, 2019

"The Act": The story of Gypsy and Dee Dee

(Story)

Apr 08, 2019

Upcoming Music: April 2019

(Story)

Mar 27, 2019

2019 NHS Induction Ceremony

(Story)

Mar 06, 2019

Upcoming Music: March 2019

(Story)

Feb 28, 2019

Bohemian Rhapsody: A True Legacy

(Story)

Feb 21, 2019

Ariana Grande: Success Against All Odds

(Story)

Feb 05, 2019

Upcoming Music: February 2019

(Story)

Jan 31, 2019

Alliance High School's YouTubers

(Story)

Jan 22, 2019

Prom: Is It Too Early To Plan?

(Story)

Jan 09, 2019

Upcoming Music: January 2019

(Story)

Dec 19, 2018

Disney Stars: The Pressures

(Story)

Dec 04, 2018

Upcoming Music: December

(Story)

Nov 29, 2018

Christmas Music: Yay or Nay?

(Story)

Nov 19, 2018

Family Away From Home: What it's like

(Story)

Nov 06, 2018

Upcoming Music: November

(Story)

Nov 02, 2018

Breast Cancer Awareness: Our Story

(Story)

Oct 23, 2018

Parent Teacher Conferences

(Story)

Oct 05, 2018

Upcoming Music: October

(Story)

Sep 07, 2018

Ms. Ashtyn Vivion: Agriculture

(Story)

Sep 06, 2018

AHS Football Preview: A Determined Season

(Story)

Sep 06, 2018

Upcoming Music: September 2018

(Story)

May 11, 2018

My 1st year in the Spud

(Story)

Apr 27, 2018
Apr 11, 2018

NSAA Student Advisory Committee: Maycee Quick

(Story)

Mar 22, 2018

Superstitions and Conspiracy Theories

(Story)

Mar 06, 2018

Emma Gonzalez: The Generation of Change

(Story)

Feb 21, 2018

AHS Senior Cheerleaders: A Farewell

(Story)

Feb 06, 2018

Super Bowl LII: Fly Eagles Fly!

(Story)

Jan 26, 2018

Raising the Bar: Weight Lifting

(Story)

Jan 11, 2018

Ms. Monique Jensen: FACS

(Story)

Dec 19, 2017

Christmas Gifts: From Three Perspectives

(Story)

Dec 07, 2017

Health Professions: Heroes of Tomorrow

(Story)

Nov 14, 2017

Veteran's Day Program 2017

(Story)

Nov 06, 2017

World Series 2017: Houston Takes It Home

(Story)

Oct 25, 2017

The Lack of Electives

(Story)

Oct 12, 2017

Behind The Scenes: Cheerleading

(Story)

Sep 19, 2017

Mrs. Shannon Garwood: External Education

(Story)