Northside: The Experience of a Lifetime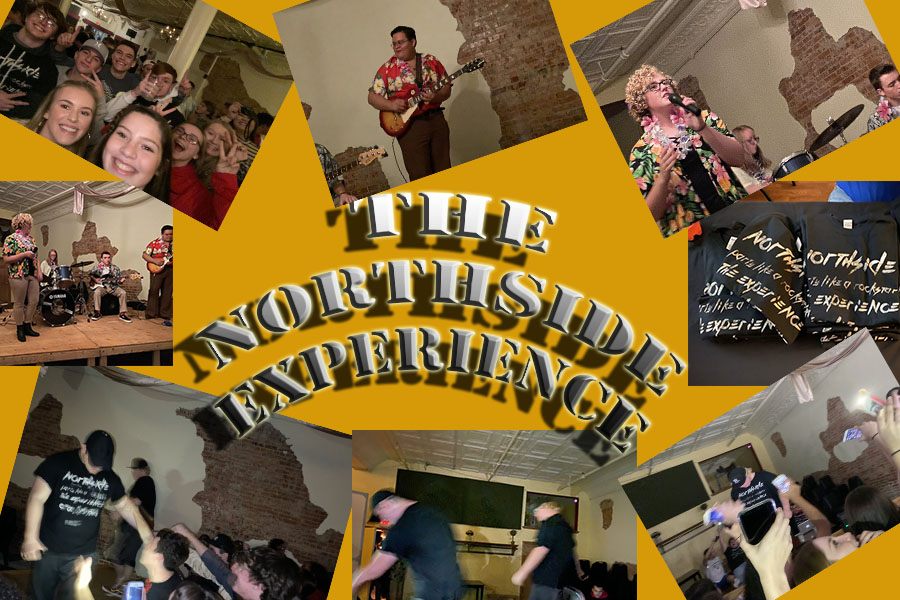 On Friday November 22, a few of our high school students/alumni, debuted themselves by hosting a concert for the people of Alliance. The concert entitled "Party Like A Rockstar. The Experience of a Lifetime" was a hit and a very successful night for all of the artists involved.
The doors opened at 7:30 p.m. and the entrance fee was only $5. The atmosphere of the venue seemed amped and exciting. The opening act started at around 8:15 p.m. and lasted about an hour. The opening band "UJIAA" consisted of former high school student Ulises Gallegos as well as current students, Jack Moomey, Izzy Middleton, Aiden Zaro, and Aubrey Garrett. The band performed with live instruments and helped the crowd get excited for what was to come from the main performance of Northside. UJIAA performed a variety of covers including "Amsterdam" by Imagine Dragons, "Stay" by Post Malone, and an original by UJIAA entitled "You." When speaking to the lead singer of UJIAA, Aubrey Garrett, about the overall experience and how this all came together, she had a few words to say. She mentioned, "I think the concert went super well, it was a super fun experience." When asked how the group was invited to perform as the opening act she replied with "Well, I was the last member to get added to the group and I believe Uli was joking and commented on Noah's post about opening, but it turned out to actually happen and I'm glad it did." She said that she was "extremely nervous before the first song and was kind of freaking out, but after Wipeout I wasn't really nervous anymore cause it was a super chill environment." As artists, it is easy to get nervous, but it is also interesting how everyone gets motivated. When asked what motivates her, she said that "Music is my passion and it's what I want to do for the rest of my life. The 'good jobs' and 'I loved it' all keeps me going, because if I can inspire or entertain at least one person I think that's amazing." She also added that the highlight of the night was singing 'Country Roads' with everyone, "It was amazing and I knew that song would be fun."
Noah Freeze and Gage Cordell both seniors at Alliance High School comprise the group Northside. Freeze had a few words to say about the amazing night and how crazy it was to finally be able to have a concert of his own. Noah Freeze has been a part of Northside for a while now and has created a variety of music. It's safe to say that the high school and all of his peers are quite familiar as to who Northside is. The songs performed that night were mostly originals from their album. A few of the songs performed included "Party Like A Rockstar," "Forgive Me," "Versace Cowboy Boots," "Jump," and "Envious."
When asked how he had the idea of hosting a concert he said, "After I went to my first concert, it was fun and I told Gage it looked fun and we should do it and he agreed," and that's what started this whole event. He said that "The concert went amazing, the openers performed great, and the crowd was amazing as well."
Noah seemed very comfortable on stage even though it can be nerverecking to perform in front of a crowd full of your peers. He said that "it wasn't scary, it was actually fun, and after rehearsing so many times, you don't realize that there is actually people there." As stated earlier, motivation is a huge part of creating an event like this. Noah added that, "The only real motivation that I can say I have is I enjoy making music a lot more than working a real job, and that makes me work harder." It is easy to say that music is what motivates these artists, without loving what you are doing, no one will believe in what you do.
There were many great parts of the night, but when asked what the biggest highlight of the night was for Noah he said when "Ms. Jay showed up to the concert and we performed 'Party Like A Rockstar,' the crowd was so involved and made it very enjoyable." Northside has been and remains to be a local favorite band to many students at AHS, and this is only the beginning!