Super Bowl LII: Fly Eagles Fly!
Hang on for a minute...we're trying to find some more stories you might like.
Fly Eagles Fly, and sure they did. Super Bowl LII was held in Minneapolis, Minnesota, and was undoubtedly entertaining. The Philadelphia Eagles and the New England Patriots were the two teams competing in the Super Bowl. This would be New England's second year in a row heading to the Super Bowl.
This Super Bowl, to many critics, was going to be easily handed to the New England Patriots, giving Tom Brady his sixth superbowl win. The Patriots were definitely going to be the winners in many fans and  critics eyes due to their dangerous starting quarterback, their phenomenal season, and their five previous Super Bowl wins. Although these were the thoughts of many, the Eagles rose to the top and proved everyone who doubted them wrong. The first quarter ended with the Eagles leading 9-3 and by half time leading 22-12.
After the second quarter ended, the awaited Pepsi halftime performance was underway. Justin Timberlake gave an exemplary and emotional performance. He sang some of his biggest hits like, "Cry Me A River", "Suit & Tie", and "Mirrors." He then gave an emotional and special dedication to Prince and sang his song "I Would Die 4 You." This song was also a dedication to all of Prince's Minneapolis fans, because Prince was born and raised in the great city of Minneapolis, where the Super Bowl was held.
After Justin's entertaining halftime show, it was time to get into the second half of the game. The third quarter ended with the Eagles still in the lead with a score of 29-26. At this point fans could feel a lot of pressure on both teams, because of how close it was.
When, fourth quarter came around, the Eagles were on defense. The score was 41-33 Eagles, and Tom Brady had the ball.  Eagles' fans were certain that Tom Brady could fire back with two minutes remaining, if they brought their A game. There was no doubt he could have passed it all those yards to the receiver and made an insane touchdown, have a two point conversion and win the game, but the clock ran out and it was clear that the Eagles had just won their first ever Super Bowl. It was their redemption, since they lost to the Patriots in Super Bowl 39.
Although Tom Brady is one of the greatest quarterbacks in history, and the New England Patriots have created a legacy for themselves, Philadelphia came in with something to prove. They proved that they had a great team, and it was clear they could beat anyone. The team made some smart calls during the game and had a great coach guiding the plays. The Eagles quarterback, Nick Foles, gave an amazing performance, and went from backup quarterback to Super Bowl MVP. The Eagles, or so called "underdogs" are underdogs no more, they are the Super Bowl 52 Champions!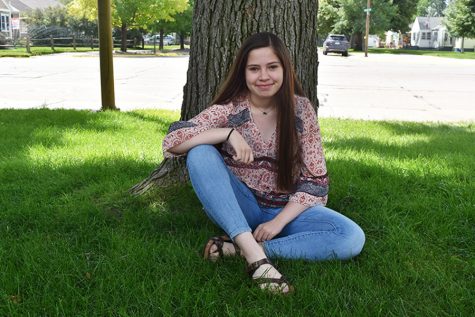 Crystal Garza, Staff Writer
Hi! My name is Crystal Garza. I'm a junior at AHS, and this will be my second year writing for the SPUD. I'm the oldest daughter of Richard and Oneyda...