Upcoming Music: April 2019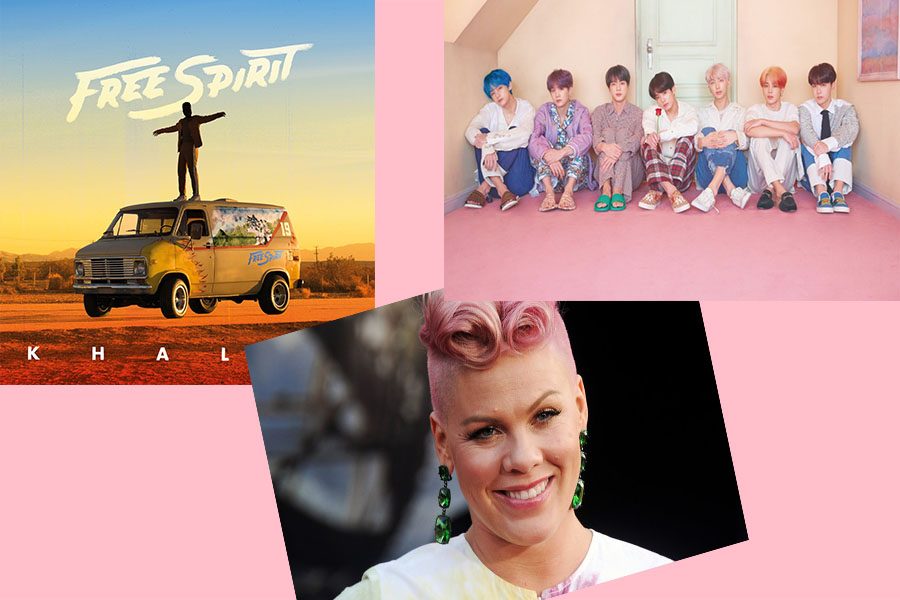 The month of April has finally arrived and of course, April means Spring! Spring is the season of new beginnings and new things springing out into the world. April is also a month full of new music. This month includes music from artists such as Khalid, BTS, and Pink.
Khalid: Free Spirit
Khalid was born in Georgia in 1998 and is a very well known American singer and songwriter. Khalid became famous with his song "Location" which peaked to the number 16 spot on the hot billboard charts in 2016. He later went on to produce his first album enntitled "American Teen" this album included songs such as "8TEEN," "Another Sad Love Song" and "Coaster." In 2017 the album was certified platinum for selling over one million copies. He later released his second record which was an EP entitled "Suncity" in 2018. On April 5 he will come out with his new album entitled "Free Spirit." This album will include songs such as "Saturday nights" which was a song on the top charts, and "Better." Khalid hasn't been around for a long time, but he has defenitly taken the music industry by storm, he's already broken so many records and has recieved numerous awards. Khalid hasn't dissappointed yet, and will definitely not dissappoint with his upcoming album.
BTS: Map of the Soul: Persona
BTS is a famous 7 member South Korean pop boy band, who have basically taken the whole world by storm. BTS has been recieved so well by America that they are always doing something around the world especially in the U.S. The boy band has won multiple awards for best new artist and has made it into the top 100 U.S. Billboard charts with their song "DNA," from their album entitled "Wings." There have been numerous YouTube videos made on them as to why they have become so popular. They have attended may American award shows and they aren't stopping now. Their new album is entitiled, "Map of the Soul: Persona" and there is not a set tracklist as of now, but the album will be released April 12.
Pink: Hurts 2B Human
Pink has been around since the early 2000's and she has been non stop ever since. PInk was born Alecia Beth Moore, but made Pink her stage name. Pink's has released 7 studio albums, and many other versions, such as live albums. She has had multiple platinum studio albums and has won a multitude of awards for her evergrowing success. Her tracklist include songs such as "Hustle," "Walk Me Home," and "My Attic." The album will be released April 26, and she will definitely make this album as great as her past albums.
More Upcoming Album
Lizzo: Cuz I Love You- April 19
Jade Bird: Jade Bird– April 19
Marina: Love + Fear– April 26