NSAA Student Advisory Committee: Maycee Quick
Hang on for a minute...we're trying to find some more stories you might like.
Alliance High School, Sophomore, Maycee Quick has been selected by the Nebraska School Activities Association (NSAA) to be a member of the Student Advisory Committee (SAC). According to the newly elected representative of Alliance High School and Western Nebraska, SAC is a leadership group in which student athletes "strive to spread leadership, integrity and good sportsmanship throughout Nebraska."  The SAC is a group of 16 students across Nebraska who discuss issues within schools, activities, and athletics. This year they selected eight new members, out of almost 80 applicants. These students were selected from across the six different school districts.
According to NSAA, the selection process was focused on the representation of gender, school classification, minority representation, and participation in interscholastic athletics /activities.
Maycee says the application process consisted of two essays explaining why she had the leadership qualities to be in this committee and why extracurricular activities were important for students, and submitting her resume. Lastly, she had to get recommendation letters from our principal, Mr. Clear and her cheer coaches explaining why she would be a good member for this committee.
Maycee will be representing Western Nebraska throughout her junior and senior years. With this role she says she will "be heading to NSAA headquarters in Lincoln throughout the year." to attend meetings. During the meetings, the committee will be discussing current student and association issues, and help to maintain an avenue of communication between the association and the student participants themselves.
This organization and committee is used to better improve students' spirit and activity in extracurricular activities. Maycee's plan now that she is in this organization is to "just help and promote the committee in the best possible way I can, and represent AHS and Western Nebraska the best way I can!" Congratulations Maycee for being elected as a member of the 2018/2019 Student Advisory Committee!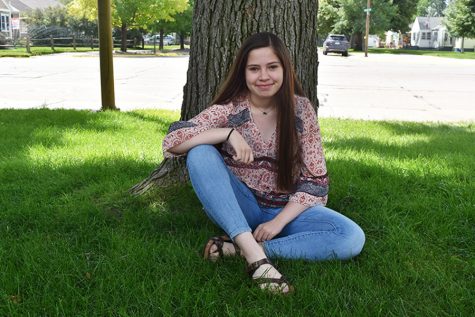 Crystal Garza, Staff Writer
Hi! My name is Crystal Garza. I'm a junior at AHS, and this will be my second year writing for the SPUD. I'm the oldest daughter of Richard and Oneyda...