Netflix's "Cheer"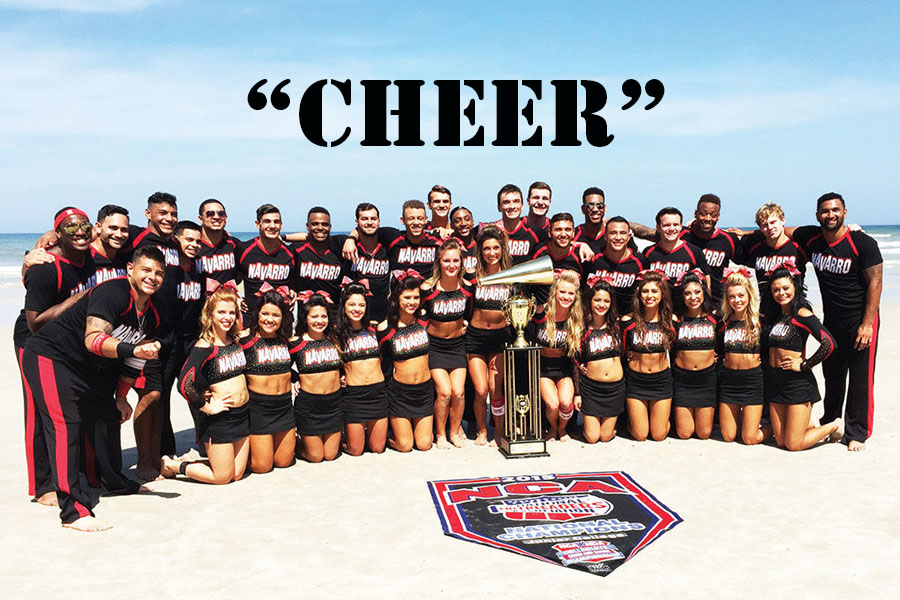 The new show on Netflix titled "Cheer" is one that a lot of people might have heard of and one that people may not have heard of. However, the show has become quite popular after it's release on January 8. The show is based off of a cheer team located in Corsicana, Texas. These cheerleaders attend Navarro College in Corsicana and have been competing at NCA's Daytona Beach Cheer Competition in Florida every year. The show follows these amazing college cheerleaders as they prepare to compete in the biggest collegiate cheer competition in the United States.
Throughout the show we are introduced to a lot of talented cheerleaders. These cheerleaders show a magnitude of diversity as well as troubled pasts. The cheerleaders tryout to be on the team and usually come from all around the US just to cheer for this team and for one of the best college cheer coaches out there, Monica Aldama. Monica Aldama has spent over twenty-four years coaching for Navarro College. Monica earned a business degree after graduating college, but life took her elsewhere. With that business degree and all that she learned, she has managed to build one of the best cheer programs Navarro has ever seen. According to Navarro College Athletics, Monica has brought home "14 National Cheer Association (NCA) Junior College Division National Championships and five Grand National Titles in competition at Daytona Beach, Fl. Under her guidance Navarro College holds the reigning record for the highest score in history at NCA College Nationals." The Division National championships differ from a Grand National Championship, winning a Division means you beat every team in your division, while the Grand National Championship means Navarro beat out every team including universities five times. This is a huge accomplishment for not only her, but all of the hard working athletes she has brought up during their time in college. Being a junior college, Monica has to be extra persistent and prepared. It's not often easy to build a champion team with students attending only two years, but it definitely isn't impossible, especially for a coach as great as Monica.
Throughout the show, athletes glorify their amazing coach, and oftentimes call her a second mother. To most of these athletes, being a part of the team has meant the world to them, due to tough circumstances at home. Morgan Simianer, from Osage, Wyoming, and a first year Navarro Cheerleader is both a flyer and tumbler. Throughout the show she is highlighted and most of her past story is explained. As an audience member you can tell she's been through a lot. Morgan Simianer came from a broken family. Her parents both abandoned her and her brother, which left her broken; however, she found a place to call home with her grandparents. She has conquered defeat and showed great dedication leading up to Daytona.
Gabi Butler, who is from Boca Raton, Florida, is another great cheerleader and one that might be well known. For as long as anyone from the cheer world can remember, she has been one of the biggest cheerleaders ever. Her following on social media is extensive. Gabi was first spotted in YouTube videos and has been in the spotlight ever since. Gabi has cheered with a multitude of club cheer teams, this however was her first collegiate cheer team due to her decision to attend college. Gabi has even taken multiple tours throughout the US and hosted a multitude of cheer camps. She inspires many to cheer and has truly exemplified a Navarro Cheerleader.
Kaitlyn Schulze, a junior, and Alliance High School cheerleader says that she thought the show "showed the experience and hard work you have to put in, or you're not going to be in competitive cheer." She later stated that she "liked the people on the show and why they chose to cheer." She liked the "life experience" the cheerleaders had and continued to say "It showed that not everyone has a perfect life when you're a cheerleader." This show has brought out what collegiate cheerleading is and how demanding it can be. Through the show we see dedication from all the athletes and serious injuries that had the potential to destroy their performance at Daytona Beach. In the end they succeed and conquered all presented challenges.