Raising the Bar: Weight Lifting
Hang on for a minute...we're trying to find some more stories you might like.
The weights program has dramatically changed the last two years, and it has become a big part of the student athletes' lives. Coach Carlos Palomo has helped make the weights program something that is great to be a part of. Before coach Mo started here the weights program was just a class. Now it is a culture that has grown. All students at Alliance High School are starting to figure that out. The weights program is a program that is offered to students grades nine through twelve. It is meant to improve students' strength and overall fitness. He says "he holds high expectations for all students and they are finally buying in." He also states that students are improving in testing and their confidence is  improving. When you are in the program he says it "boosts your confidence, and just yourself, building your body image, and just being confident in yourself."
Since Coach Palomo has been here, he says the biggest thing that has changed is that, once a week the class breaks down technique. This helps with confidence and also helps with having less injuries. He says technique and confidence improves which makes test numbers go up. He says "it's been very fun to watch."
Haley Hoxworth, a senior, has taken weights since she was a freshman. She says that the weights program has definitely changed for the better, she also adds that it is a lot harder and more challenging. She mentions that Mo pushes everybody everyday and that the record board helps students work toward their goals to be the best they can be. With Coach Mo helping everyone to their fullest potential, she feels like she has improved dramatically since freshman year. Not only in lifting but in mental toughness as well. With Mo working his students so hard, he also has to work on technique, so nobody gets injured and everybody is taking of their bodies.
A big thing that has been stressed in the weights program is having a "Blue Collar Mentality" Palomo states that his own definition is "being able to get out of your comfort zone and go above and beyond expectations" and that it is important to be "doing the little things right, being a hard worker, and working for everything you have." He says that "it's a grind, especially if you are in season." He says it's definitely being instilled and a good amount of the kids are buying in.
Haley says that Mo has taught his students that the meaning of "blue collar mentality" is to push yourself and always stay positive and confident. She says that Mo loves his students and wants everyone to succeed and get better everyday. Haley also mentions that she is so glad Mo came into the weights program, and that he really does want the best for all of his students. Again, everyday is another day to get better. He says that kids are having that mindset everyday!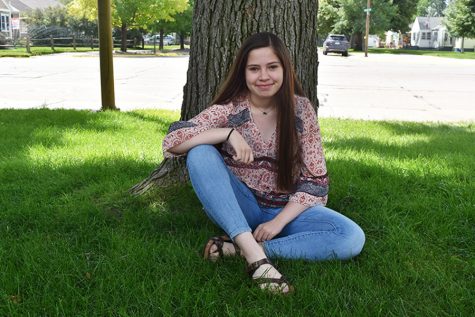 Crystal Garza, Staff Writer
Hi! My name is Crystal Garza. I'm a junior at AHS, and this will be my second year writing for the SPUD. I'm the oldest daughter of Richard and Oneyda...