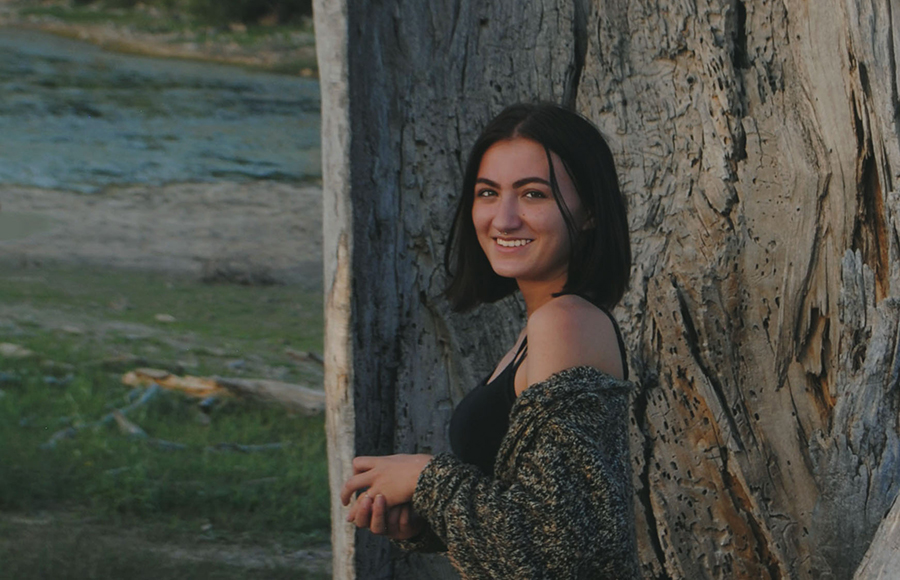 Hello readers, my name is Margaret Hoff and this is my third and final year writing for the Spud. This year, as a Senior, I have been promoted to Co-Editor-in-Cheif. As a senior, I will have the privilege of writing for the Senior Side Column. Along with this, I will be continuing to write the monthly movies stories as well as make some cartoons.
Outside of journalism, I am involved in quite a few activities. I play the tenors in the band, and I am also involved in Key Club, National Honors Society, FBLA, and Art Club. With being a senior, college seems to be coming up pretty quick. I hope to further my education by majoring in studio art and minoring in entrepreneurial studies at Black Hills State University.
I hope you enjoy what this year's staff brings to the table, we seem to have a great year ahead of us!
Margaret Hoff, Editor-in-chief
Apr 28, 2020

Farewell to the Spud

(Story)

Apr 16, 2020
Apr 07, 2020

Upcoming Movies: April 2020

(Story)

Mar 31, 2020

The Ultimate Quarantine Film Guide

(Story)

Mar 19, 2020

"The American (COVID-19) Dream"

(Story)

Mar 05, 2020

Upcoming Movies: March 2020

(Story)

Feb 27, 2020

Recognizing Foreign Influences

(Story)

Feb 20, 2020

More Than Just a Mascot

(Story)

Feb 05, 2020

Upcoming Movies: February 2020

(Story)

Jan 28, 2020

The Issue with Writing Formats

(Story)

Jan 17, 2020

What YOU Can Do to Save the Planet

(Story)

Jan 13, 2020

Upcoming Movies: January 2020

(Story)

Dec 18, 2019
Dec 05, 2019

Upcoming Movies: December 2019

(Story)

Nov 06, 2019

Upcoming Movies: November 2019

(Story)

Oct 31, 2019
Oct 16, 2019

Sports vs Activities Infographic

(Story)

Oct 05, 2019

Upcoming Movies: October 2019

(Story)

Oct 02, 2019

New Age Spirituality

(Story)

Sep 14, 2019
Sep 07, 2019

Upcoming Movies: September 2019

(Story)

May 16, 2019
May 02, 2019

Upcoming Movies: May 2019

(Story)

Apr 25, 2019

State Journalism 2019

(Story)

Apr 12, 2019
Apr 09, 2019

Upcoming Movies: April 2019

(Story)

Apr 01, 2019

Us: A Different Kind of Thriller

(Story)

Mar 12, 2019

"The Luck of the Irish"

(Story)

Mar 06, 2019

Upcoming Movies: March 2019

(Story)

Feb 26, 2019

"National Emergency"

(Story)

Feb 14, 2019
Feb 06, 2019

Upcoming Movies: February 2019

(Story)

Feb 03, 2019
Jan 16, 2019
Jan 09, 2019

Upcoming Movies: January 2019

(Story)

Dec 20, 2018

"Christmas Gifts"

(Story)

Dec 04, 2018

Upcoming Movies: December 2018

(Story)

Nov 28, 2018
Nov 13, 2018
Nov 06, 2018

Upcoming Movies: November 2018

(Story)

Oct 31, 2018

This Story Could be Fake News

(Story)

Oct 09, 2018

"Homecoming Spirit"

(Story)

Oct 05, 2018

Upcoming Movies: October 2018

(Story)

Sep 25, 2018

Mr. Jeremy Eskam: Band

(Story)

Sep 07, 2018
Sep 04, 2018

Upcoming Movies: September 2018

(Story)

May 03, 2018

Upcoming Movies: May 2018

(Story)

Apr 20, 2018
Apr 05, 2018

Upcoming Movies: April 2018

(Story)

Mar 15, 2018

A Trial Size Version of the Vegan Life

(Story)

Mar 02, 2018

Upcoming Movies: March 2018

(Story)

Feb 16, 2018
Feb 02, 2018

Upcoming Movies: February 2018

(Story)

Jan 21, 2018

The New Age of Musicals?

(Story)

Jan 04, 2018

Upcoming Movies: January 2018

(Story)

Dec 12, 2017
Dec 01, 2017

Upcoming Movies: December 2017

(Story)

Nov 14, 2017

Drumline: A Different Beat

(Story)

Nov 02, 2017

Upcoming Movies: November 2017

(Story)

Oct 19, 2017

Iconic Teen Movies

(Story)

Oct 09, 2017

Upcoming Movies: October 2017

(Story)

Sep 18, 2017

Mr. Mark Custer: Science

(Story)

Sep 11, 2017

Ms. Andrea Jay: History

(Story)