Upcoming Movies: September 2018
Hang on for a minute...we're trying to find some more stories you might like.
School is back in session and so are September's movies. This month brings in a ton of nationwide releases. Unlike with school, you can actually enjoy these movies with your friends. Seeing as there's upwards of ten genres to choose from this month, there is bound to be something you will love.
After her husband and daughter are shot dead in a drive-by, vengeful mother Riley North, awakens from a coma. After the murderers of her family walk free of any charges, she devotes years to becoming a lethal killer. Once the tenth anniversary of her family's death comes around, she goes on a mission to bring her own version punishment to those she holds responsible for this crime. No one from the case is safe as she targets the shooters, judges, and police for her ultimate justice.
Directed By: Pierre Morel
Screenwriter: Chad St. John
Starring: Jennifer Garner, John Ortiz, Method Man
Genre: Thriller
After a young nun at an abbey in Romania commits suicide, a priest with a questionable past and a novitiate about to make her final vows are sent by the Vatican to investigate the strange happening. Once they get to the abbey they uncover the order's evil secret. Risking not only their lives but their promised faith and their very souls. They confront a strong evil force in the form of a demonic nun.
Directed By: Corin Hardy
Screenwriter: David Leslie Johnson, James Wan
Starring: Ingrid Bisu, Demian Bichir, Taissa Farmiga
Genre: Horror
In this suspenseful thriller, Stephanie, an online "mommy" vlogger, searches high and low to uncover the truth behind her best friend Emily's mysterious disappearance from their small town. Stephanie partners with Emily's (possible) widower, Sean, as this thriller grows in its hysteria-filled twists. As the betrayals, secrets, revelations, revenge, and possible murder, grows more apparent, love and loyalties become questioned.
Directed By: Paul Feig
Screenwriter: Jessica Sharzer
Starring: Anna Kendrick, Blake Lively, Joshua Satine
Genre: Suspense/ Thriller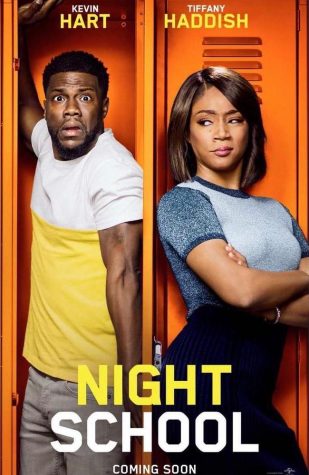 Night School (PG-13) – Sept 28
This comedy follows a group of "misfits" who dropped out of high school, specifically Teddy Walker. Teddy used to be a businessman, at least until his grill shop was blown up. In order to get any good jobs the group is forced to take night classes to receive their GEDs; however, it's very unlikely that any of them will pass. Follow the humorous bunch as they struggle to learn even the basics. Who knew school could be so funny?
Directed By: Malcolm D. Lee
Screenwriter: Matthew Kellard, Harry Ratchford, Joey Wells
Starring: Kevin Hart, Tiffany Haddish, Taran Killam
Genre: Comedy
Smallfoot takes the classic bigfoot legend and flips it completely upside down. This tale follows a young yeti as he discovers something no yeti has ever seen: a human. Once news that he has discovered a "small-foot" gets out, he gets shrouded with fame. Along with this new popularity he now has a chance with his dream girl. However, it also throws the Yeti community through a loop, sending them all on personal missions to discover what truly lies beyond their desolate village.
Directed By: Karey Kirkpatrick
Screenwriter: John Requa, Glenn Ficarra
Starring: Channing Tatum, Gina Rodriguez, Zendaya
Genre: Children's Animation
So, this month there is almost every genre from a suspenseful thriller, to a children's animated movie. However, if none of those sounded good to you, there are still plenty of releases coming throughout this month. Make sure to go check them all out at your local theatre!
More movies coming out this month:
September TBA
God Blessed the Broken Road (Drama/family/faith)
September 14
The Predator (R) (SCI-FI)
Unbroken: Path to Redemption (PG-13) (TRUE STORY)
White Boy Rick (NR) (CRIME)
September 21
The House with a Clock in its Walls (PG) (SUPERNATURAL)
The Sisters Brothers (R) (DARK COMEDY)
September 28
Hell Fest (NR)(HORROR)
Little Women (FAMILY) (PG-13)