Upcoming Movies: October 2018
Hang on for a minute...we're trying to find some more stories you might like.
It's finally October and we all know what that means. It's time for horror movies, cuddling, and the great season called fall. Although it is the "spooky month," there is plenty more genres to choose from than just horror movies (even though there are plenty of scary ones this month.) As always, there is a movie for everyone in this month's line up. So, let's jump into these synopses.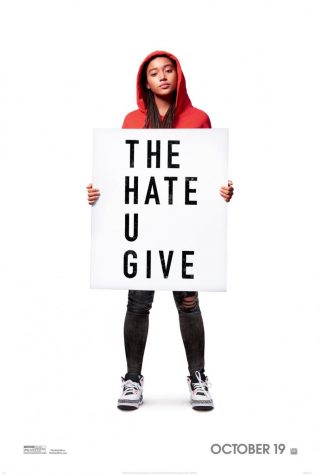 The Hate U Give (PG-13)- October 5
Starr Carter is a seemingly typical teen… but she leads a double life. Half of the time she lives the life of a student in a rich, mostly white, prep school. The other half of the time she lives in a poor, mostly black neighborhood. The fragile balance between these worlds is completely shattered when Starr witnesses something that changes her life forever: the fatal shooting of her childhood best friend Khalil at the hands of a white police officer. Now, in the face of great diversity, she must find her own voice and stand up for what she thinks is right.
Directed By: George Tillman Jr.
Screenwriter: Audrey Wells, Based on Angela Thomas' novel
Starring: Amandla Stenberg, Regina Hall, Russell Hornsby
Genre: Drama/ Teen
Halloween: Michael Myers Returns (R)- October 19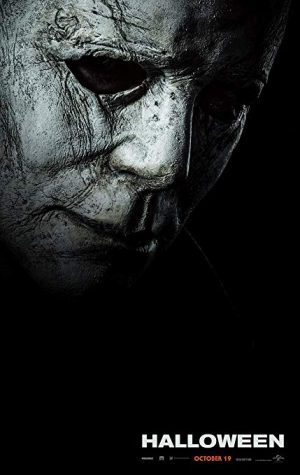 Jamie Lee Curtis returns to her iconic teen role as Laurie Strode in the final chapter of Halloween. Continuing off of the original Halloween, she makes her final confrontation with Michael Myers who she narrowly escaped years ago. Will the killings continue on, or will Laurie finally put an end to it all?
Directed By: David Gordon Green
Screenwriter: David Gordon Green, Danny R. McBride
Starring: Jamie Lee Curtis, Judy Greer, Andi Matichak
Genre: Horror/ Suspense/ Thriller
An eager and intelligent American student arrives abroad to study at a world-famous dance company. She begins to grow weary and suspects that the academy may be a front for a more menacing organization. The story engulfs the artistic director, the young student, and a grieving psychotherapist when the once-quiet campus is shattered by a brutal murder and several other cruel and strange homicides.
Directed By: Luca Guadagnino
Screenwriter: David Kajganich, Remake of the 1977 Italian film by Dario Argento
Starring: Dakota Johnson, Tilda Swinton, Mia Goth
Genre: Horror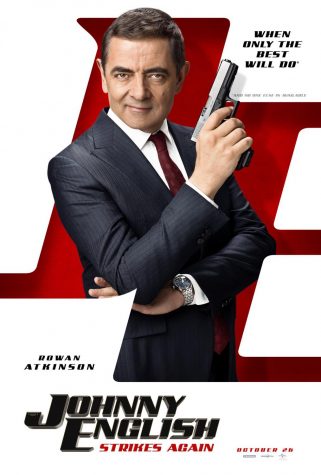 Johnny English Strikes Again (PG) – October 26
A new adventure begins for the classic Johnny English when a cyber-attack reveals the identity of all active undercover agents in Britain. This mishap leaves Johnny English as the secret service's last hope. Once he is summoned out of retirement, English dives headfirst into an all-new action-packed mission to discover the hacker. As a man with very few skills and basic tech knowledge. Johnny English must overcome the challenges he faces with modern technology to make this "come-back" mission a success.
Directed By: David Kerr
Screenwriter: Robert Wade
Starring: Rowan Atkinson, Olga Kurylenko, Jake Lacy
Genre: Action/ Adventure/ Comedy
Venom follows Eddie Brock who contracts a parasite known as a symbiote from a sticky substance. Just like his "good guy" counterpart "Spiderman," Eddie begins to elicit dark and special powers; however, no matter how convenient special powers are, Eddy is forced to make a decision. As "Venom" attaches to him more and more, he must choose between releasing this otherworldly parasite and saving his own life or continuing on the path of Venom.
Directed By: Ruben Fleischer
Screenwriter: Dante Harper, Scott Rosenberg, Jeff Pinkner
Starring: Tom Hardy, Riz Ahmed, Michelle Williams
Genre: Action/ Adventure/ Superhero
So, there you have it, October's top five movies. There is obviously plenty of action and thrillers this month, as you would think. But, if none of those sound too good to you then you will have to check out the other nationwide releases this month has to offer.
OTHER FILMS DEBUTING THIS MONTH
October 5
A Star is Born (R) (Drama/ Musical)
October 12
Goosebumps 2: Horrorland (PG) (Adventure/ Comedy)
First Man (NR) (Drama)
Bad Times at the El Royale (R) (Thriller/ Sci-Fi)
October 26
Hunter Killer (NR) (Action/ Thriller/ Suspense)
Indivisible (PG-13) (Drama/ Faith)