Upcoming Movies: November 2018
Hang on for a minute...we're trying to find some more stories you might like.
It's finally November, the month of giving, and that's just what movie producers did this month. There's a grand total of 16 nationwide movies being released throughout the month. A few of these movies have been long awaited, while some are less popular; nonetheless, there's sure to be a movie for you somewhere in the mix.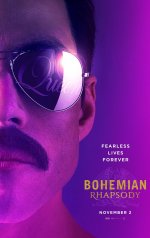 Bohemian Rhapsody (PG-13)- November 2
Bohemian Rhapsody is a long-awaited bio-epic of Queen. The movie mainly follows the extraordinary lead singer Freddie Mercury, who defied stereotypes and shattered traditional expectations to become one of the most beloved entertainers on the planet. The film also follows the rise of the band through their iconic songs and revolutionary sound as well as their almost-breakup as Mercury's lifestyle spirals out of control. It also includes their triumphant reunion on the eve of Live Aid, where Mercury, facing the dreadful truth of AIDS, leads the band in one of the greatest performances in the history of rock music.
Directed By: Bryan Singer
Screenwriter: Justin Haythe
Starring: Rami Malek, Joe Mazzello, Ben Hardy
Genre: Biography/ Drama/ Music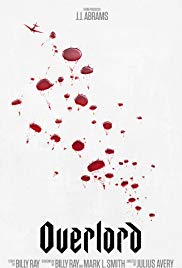 Overlord (R)- November 9
On the edge of D-Day, a group of American paratroopers are dropped behind enemy lines in Germany to carry out a mission that is crucial to the American invasions' success. But, as they approach their target, they begin to realize there is more going on in this Nazi-occupied village than a simple military operation.
Directed By: Julius Avery
Screenwriter: Mark L. Smith, Billy Ray
Starring: Jovan Adepo, Wyatt Russel, Jacob Anderson
Genre: Action/ Supernatural/ War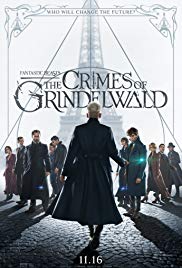 Fantastic Beasts: The Crimes of Grindelwald (PG-13)- November 16
The newest installment of the Fantastic Beasts series picks up right where Fantastic Beasts and Where to Find Them left off. In 1920s Paris, Grindelwald has escaped from his imprisonment and has gathered more followers. The only person who may have a chance at defeating him is someone he used to see as a dear friend: Albus Dumbledore; however, Albus will need help. This help can only come from the wizard who last defeated him, Newt Scamander.
Directed By: David Yates
Screenwriter: J.K Rowling
Starring: Eddie Redmayne, Zoe Kravitz, Johnny Depp
Genre: Adventure/ Fantasy
How the Grinch Stole Christmas (PG) – November 9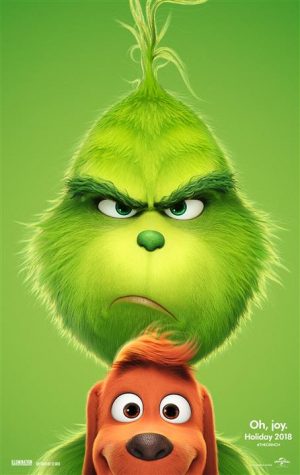 This animated remake retells the classic story of How the Grinch Stole Christmas, by Dr. Seuss with a twist. Just like in the classic cartoon, the Grinch is a grump who lives in solitude up in a cave with his loyal dog Max. As Christmas comes around though, his peace is disturbed. This leads the Grinch to devise a plan to "steal" Christmas from the town of Who-ville. At this same time, Cindy-Lou-Who plots to trap Santa so she can thank him for helping her single mother. As Christmas nears these two plots clash. Will Cindy-Lou get to fulfill her goal, or will the Grinch's evil scheming prevail?
Directed By: Scott Mosier, Yarrow Cheney
Screenwriter: Michael LeSieur
Starring: Benedict Cumberbatch, Angela Lansbury, Rashida Jones
Genre: Fantasy/ Remake/ Animation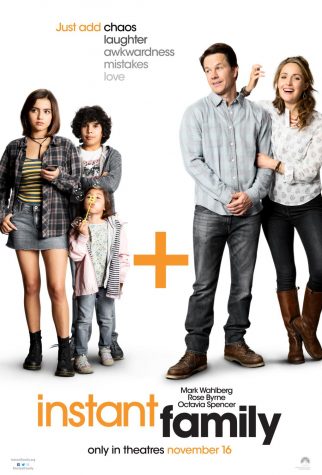 Instant Family (PG-13)- November 16
In this heartwarming yet comedic film, a couple decides to delve into the world of foster care adoption. Going into it, they aim to adopt just one younger child, instead, they end up with a rebellious 15-year-old and her two younger siblings. Now the couple must instantly learn the ropes of parenthood in hopes of becoming one big happy family.
Directed By: Sean Anders
Screenwriter: Sean Anders
Starring: Mark Wahlberg, Isabela Moner, Rose Bryne
Genre: Comedy/ Family
Those all seem like pretty great movies. There are definitely many genres represented even in just the top five. But wait! There are still even more movies to be discovered this month.
November 2
The Nutcracker and the Four Realms (PG)
Nobody's Fool (R)
November 9
The Girl in the Spider's Web: A New Dragon Tattoo Story (R)
November 16
Widows (R)
Green Book PG-13
At Eternity's Gate (PG-13)
November 18
The Possession of Hannah Grace (R)
November 21
Robin Hood (PG-13)
Ralph Breaks the Internet (PG)
The Front Runner (R)
Creed II (PG-13)