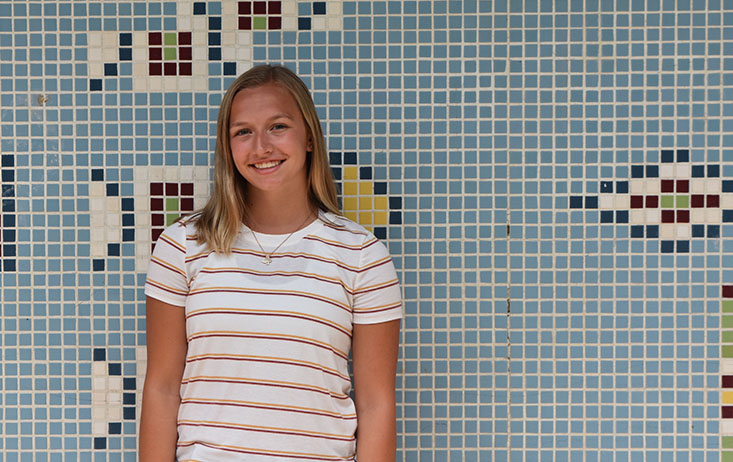 Hey everybody! My name is Kelsey Horton, I am a junior at Alliance High School. I am the 17 year old daughter of Lyle and Kate Horton. My older brother, Dylan, is in his second year at the United States Naval Academy. This is my first year writing on the SPUD and I am very excited about what this year will bring.
I play volleyball and am trying tennis this year. I am involved in FBLA and FCCLA, both as the Chapter President. I am also involved in Key Club and Academic Decathlon. During the summer, I am a lifeguard at Big Blue Bay. In my free time, I can be found reading, organizing my things, working on FBLA/FCCLA projects, binge watching Netflix, or eating ice cream. 
After high school, I hope to attend the United States Naval Academy to major in Chemistry. After that, my goal is to get accepted into Medical School and become an Orthopedic Surgeon.
Kelsey Horton, Staff Writer
May 12, 2020
May 07, 2020

My Junior Year Adjustment

(Story)

Apr 27, 2020

Senior Spotlight: Nuria Morell

(Story)

Apr 27, 2020

Senior Spotlight: Waylon Cash

(Story)

Apr 24, 2020

Social Distancing

(Story)

Apr 20, 2020

Senior Spotlight: Gage Cordell

(Story)

Apr 20, 2020

Senior Spotlight: Jordan Hopp

(Story)

Apr 13, 2020

Senior Spotlight: Jaycee Acosta

(Story)

Apr 13, 2020

Senior Spotlight: Reese Megli

(Story)

Apr 09, 2020

Corona Cancellations

(Story)

Apr 06, 2020

Senior Spotlight: Aaron Valdez

(Story)

Apr 06, 2020

Senior Spotlight: Jo Flood

(Story)

Mar 30, 2020

Senior Spotlight: Bryan Sherlock

(Story)

Mar 30, 2020

Senior Spotlight: Payton Gomez

(Story)

Mar 23, 2020

Senior Spotlight: Keegan Frohman

(Story)

Mar 23, 2020

Senior Spotlight: Payton Weber

(Story)

Mar 20, 2020

Senior Spotlight: Colby Burri

(Story)

Mar 20, 2020

Senior Spotlight: Lillian Otto

(Story)

Mar 20, 2020

Regional Science Fair

(Story)

Mar 11, 2020

Seasonal Sickness

(Story)

Mar 09, 2020

Senior Spotlight: Mareesa Buskirk

(Story)

Mar 09, 2020

Senior Spotlight: Caleb Garcia

(Story)

Mar 02, 2020

Senior Spotlight: Trinity Jewett

(Story)

Mar 02, 2020

Senior Spotlight: Chance Crowe

(Story)

Feb 24, 2020

Senior Spotlight: Karly Swanson

(Story)

Feb 24, 2020

Senior Spotlight: Hunter Stevens

(Story)

Feb 12, 2020
Feb 10, 2020

Senior Spotlight: Matthew Escamilla

(Story)

Feb 10, 2020

Senior Spotlight: Laykin Sperl

(Story)

Feb 04, 2020
Feb 03, 2020

Senior Spotlight: Trevor DuBray

(Story)

Feb 03, 2020

Senior Spotlight: Khloe Felker

(Story)

Jan 27, 2020

Senior Spotlight: Isabella Middleton

(Story)

Jan 27, 2020

Senior Spotlight: Deon Medina

(Story)

Jan 23, 2020

Flourishing from Failure

(Story)

Jan 20, 2020

Senior Spotlight: Brady Ellis

(Story)

Jan 20, 2020

Senior Spotlight: Crystal Garza

(Story)

Jan 15, 2020

Starving for Success

(Story)

Jan 13, 2020

Senior Spotlight: Margaret Hoff

(Story)

Jan 13, 2020

Senior Spotlight: Colter Mann

(Story)

Jan 06, 2020

Senior Spotlight: Peyton Hudson

(Story)

Jan 06, 2020

Senior Spotlight: Brionna Schafer

(Story)

Dec 16, 2019

Senior Spotlight: Maycee Quick

(Story)

Dec 16, 2019

Senior Spotlight: Elijah Walters

(Story)

Dec 10, 2019

Behind the Screens

(Story)

Dec 09, 2019

Senior Spotlight: Hunter Klinkerman

(Story)

Dec 09, 2019

Senior Spotlight: Madison Adam

(Story)

Dec 03, 2019

Senior Spotlight: Aubrey Garrett

(Story)

Dec 03, 2019

Senior Spotlight: Brock Brass

(Story)

Nov 25, 2019

The 2019 NCYC Experience

(Story)

Nov 25, 2019

Senior Spotlight: Joel Baker

(Story)

Nov 25, 2019

Senior Spotlight: Cameron Tritle

(Story)

Nov 18, 2019

Senior Spotlight: Cameron Wood

(Story)

Nov 18, 2019

Senior Spotlight: Jewelia Taylor

(Story)

Nov 07, 2019

Are standardized tests worth it?

(Story)

Oct 31, 2019

United States Naval Academy

(Story)

Oct 24, 2019

The Great Activities Debate: Academic Perspective

(Story)

Oct 10, 2019

Popularity or Personality?

(Story)

Sep 27, 2019

FCCLA: Towards New Horizons

(Story)

Sep 16, 2019

FBLA: Opening a World of Opportunity

(Story)

Sep 05, 2019

Boys Tennis Preview: 2019

(Story)