Spudsters Take on State Journalism
After a whirlwind of story writing throughout the year, it finally became time for state journalism. The SPUD spent time at the end of February picking, editing and submitting stories to the state competition. Due to COVID, the classes competing had to be split up throughout the day and non-competitors were not allowed inside the building.
Finally, at the beginning of April, the Nebraska School Activities Association (NSAA) released the qualifiers for the state competition. NSAA takes the top eight people in each section to compete at the state level for a medal. The Spudsters that qualified for the state competition were Senior Editor, Kelsey Horton for Editorial Writing and Editorial Cartooning and Staff Writer, Chloe Mann for Editorial Cartooning. The state competition took place on Monday, April 25 at Northeast Community College in Norfolk, Nebraska.
The trip began slowly as the contestants left just a few short hours after returning home from Prom and After-Prom that had taken place the night before. During the long car ride, Horton and Mann were able to talk and get to know each other better, as well as playing "Tractor, Horse, Windmill" with Vice Principal, Tera Digmann. After arrival in Norfolk, Digmann took the girls to the college to allow them to familiarize themselves with the campus.
Prior to the competition, the trio stopped at Starbucks to prepare for the long day ahead. At the college, Horton and Mann started the morning with Editorial Cartooning at 10:30. Following that, Horton competed in Editorial Writing at noon. The competition was split up into different time slots with each one an hour and fifteen minutes, with awards to be announced virtually on Friday, April 30.
Results:
Kelsey Horton – Editorial Cartooning 2nd Place, Editorial Writing 5th Place
Chloe Mann – Editorial Cartooning 7th Place
About the Contributor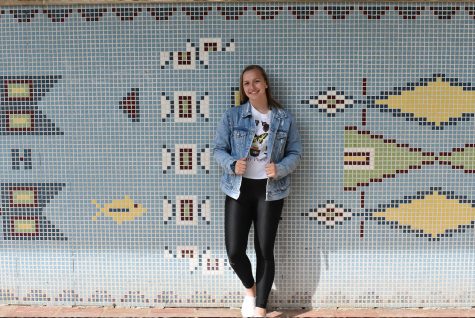 Kelsey Horton, Senior Editor
Hey everybody! My name is Kelsey Horton, I am a senior at Alliance High School. I am the 18 year old daughter of Lyle and Kate Horton. My older brother,...