The Front Nine
It's official, the first quarter of my senior year is over. I know I'm going to sound cliché saying this, but it really did go by fast. So much has happened in the past nine weeks, and it is so hard for me to believe that I am one fourth of the way done with my senior year.
Starting in August, I finally got to see some of my classmates that I hadn't seen since March 13 – which was an amazing feeling. Between school, work and volleyball, I was pretty busy, but I got a routine figured out and it was going really well. My senior year of volleyball was off to a rocky start, but it was okay because the team was closer than it had ever been before. My calculus class started an UNO competition which would lead to a ton of laughs and memories. I was at ease, because I finally believed that the class of 2021 might actually get to have a somewhat normal senior year.
In September though, everything started changing. The Coronavirus started erupting in the Panhandle of Nebraska. At first, it still was not in our county, but surrounding counties were starting to see spikes in their cases. Our school board was not concerned, masks were still encouraged to be worn at school and social distancing was recommended. We just continued everything as if we were not living amidst a Global Pandemic. I was finally inducted into National Honor Society, and got to take the state-wide ACT which were both originally scheduled for the previous March but were cancelled when our school was shut down.
Finally, without warning, our school saw our first couple positive cases. Immediately, students were being called to the office and told that they would have to quarantine for two weeks. Our volleyball team had some really great matches, and we were looking good going into the McCook Invite, when two players were quarantined. Little did we know that we would not have our full team back for the remainder of the season. During homecoming week, more and more students began to test positive. With over 70 high school students in quarantine the homecoming dance was pushed back a week, but there was still no word from the school board.
By the time October rolled around, our already small volleyball team was still shrinking. Students were being quarantined daily as people continued to test positive. At one point, the high school had about 15 positive cases and over 100 students in quarantine. The school board still did not seem to see a problem at our school though. Other schools began to refuse to compete against Alliance, and I lost my final home volleyball games, all because masks were not mandated at school. Suddenly, all kinds of high school athletes began to write letters to the school board asking for a change. Finally, after cases continued to rise, masks became "highly recommended" by the school board. Students decided to try to be the change that they wanted to see in the system by wearing masks and encouraging others to also wear masks. Now, a high percentage of students are wearing masks or socially distancing in classrooms in order to keep the quarantine cases down.
Despite the challenges that the school has faced this year, it is important to stay positive and do your part. I never thought that my senior year would end up being like this. If I could go back to August and do it over, I would encourage others to wear masks during school. Through the rough times, it has been made clear to me how important it is to appreciate the little things because you never know if an opportunity will be taken away from you.
About the Contributor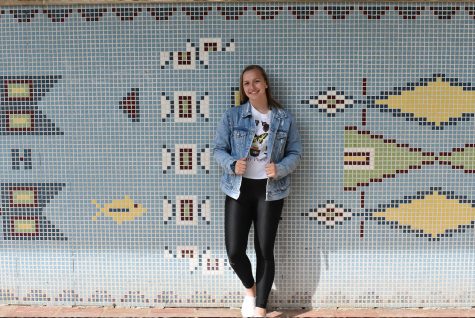 Kelsey Horton, Senior Editor
Hey everybody! My name is Kelsey Horton, I am a senior at Alliance High School. I am the 18 year old daughter of Lyle and Kate Horton. My older brother,...