Volleyball Wrap-up
The Alliance High School volleyball season concluded on October 27 after a heartbreaking loss to Scottsbluff at districts in four sets. The season was filled with all sorts of high and low points, ranging from exciting underdog wins, hard-fought matches and quarantines. The small team of 19 players was almost never all there due to Covid exposure at school, but they fought hard all season despite the challenges. The team wrapped up their season at the team banquet on November 12.
The Reserve squad finished the season with a 10-3 record. Coach Angie Hiemstra discussed how well the team bonded together and how quickly they were able to adapt to changes in the lineps. The following awards were presented after being voted on by the team:
Most Improved: Regan Braun
Most Inspirational: Kinley Pfeiffer
Most Valuable Player: Haylie Winter
The Junior Varsity team also faced a number of challenges, but overcame and ended the season successfully. The JV team ended with an 8-6 record, and were also the JV Pilfold Invite Champions! Coach Heather Jensen spoke about how the team was able to come back after a tough loss in the Pilfold Invite and win the whole tournament. She also touched on how close the team was, and how well they meshed together. Jensen presented the following awards:
Most Improved: Peyton Kindred and Addisyn Muhr
Most Inspirational: Haley Weare
Most Valuable Player: Emma Wood
The Varsity team faced a lot of challenges this year, including quarantines and canceled games. Coach Jessica Kaiser thanked the two seniors, Billi Alvarado and Kelsey Horton, for their leadership, commitment and hard work despite the challenges faced in their final year. Kaiser touched on quarantines as well, stating that out of the 19 players on the team 12 were quarantined at one point or another during the season. The Varsity squad finished their season 11-16, with many exciting matches. Senior Billi Alvarado set a new school record for Career Assists with 1346. The following awards were presented:
Commitment Award: Kelsey Horton
Senior Award: Billi Alvarado
Most Improved: Kenna Montes
Most Inspirational: Avah Steggall
Offensive MVP: Jaelynne Clark
Defensive MVP: Amauri Browning
Team Captains: Billi Alvarado and Avah Steggall
NCPA Academic All State: Kelsey Horton and Shelbee Burke
Westen Conference All Conference: Amauri Browning and Jaelynne Clark
Western Conference Honorable Mention: Kenna Montes and Avah Steggall
Despite the constant challenges, the AHS volleyball team was still able to have a successful season. The small team was able to bond and make memories together that will last a lifetime. Great job Bulldogs, we are looking forward to next year!
About the Contributor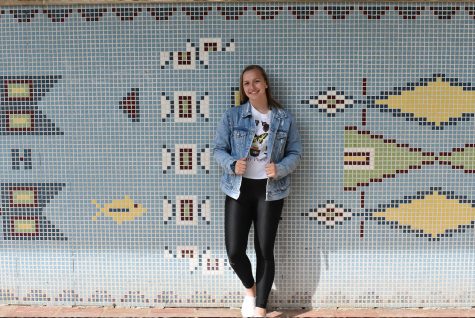 Kelsey Horton, Senior Editor
Hey everybody! My name is Kelsey Horton, I am a senior at Alliance High School. I am the 18 year old daughter of Lyle and Kate Horton. My older brother,...