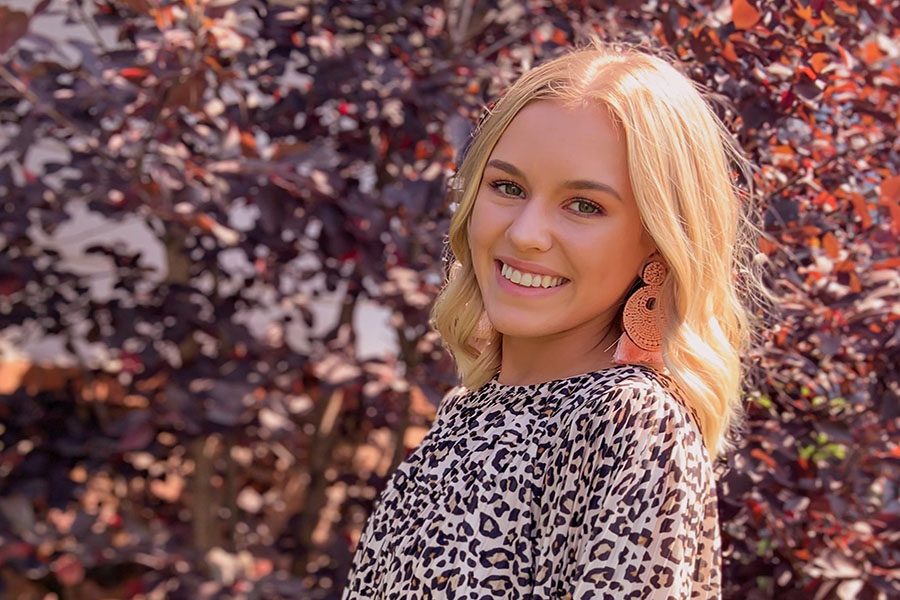 Hello, I am Maycee! I am a senior at Alliance High School, and this is my second year writing for the Spud! I am the daughter of Tara and Deon Quick. I have three older brothers, and a nephew named Kendrick.
I am a Captain for the Varsity Cheer Squad. I am Secretary of the Student Council, and I partake in Key Club and Bulldog Strong. I was granted with an amazing opportunity to be apart of the NSAA Student Advisory Committee. Because of SAC, I now take seasonal trips down to Lincoln, Nebraska to attend meetings and promote leadership and sportsmanship on a state wide level!
I enjoy school, being active, and spending time with family and friends. After graduation, I plan on attending the University of Nebraska at Lincoln where I will be studying physical therapy. For this year, I am most excited for my health and wellness column, so I can share my tips and tricks on all things health! I am excited to make more memories and write for one last year with the Spud!
Maycee Quick, Editor
Apr 17, 2020

Saying Goodbye to the Last Four Years

(Story)

Apr 09, 2020

The Importance of Wearing Masks and Gloves

(Story)

Apr 06, 2020

The Importance of Exercise

(Story)

Mar 19, 2020

Stay Home: Save Lives

(Story)

Mar 19, 2020

Choosing Positivity during a Pandemic

(Story)

Mar 10, 2020
Feb 27, 2020

Preparing for the Next Chapter

(Story)

Feb 19, 2020

Athletes Moving Forward

(Story)

Feb 12, 2020

Everything You Need to Know: Genders

(Story)

Jan 28, 2020

Soon to be Husker

(Story)

Jan 20, 2020

Eating Disorders: How to Spot Them

(Story)

Jan 08, 2020

Do New Years Resolutions Work?

(Story)

Dec 16, 2019

The End of a Decade

(Story)

Dec 04, 2019
Nov 11, 2019

Chance Englebert: The Search Continues

(Story)

Nov 08, 2019
Nov 06, 2019

Snacking Your Way to Success

(Story)

Nov 04, 2019
Oct 22, 2019
Oct 10, 2019

The Impact of Alcohol on Teens

(Story)

Sep 27, 2019

The E-Cigarette Epidemic

(Story)

Sep 16, 2019

Sleep: Are You Getting Enough Zzz?

(Story)

Sep 16, 2019

Volleyball Preview 2019

(Story)

May 16, 2019
May 07, 2019

Upcoming Games: May 2019

(Story)

Apr 30, 2019
Apr 25, 2019

Reaching the Finish Line

(Story)

Apr 12, 2019
Apr 02, 2019

Nebraska Colleges Lower ACT Requirements

(Story)

Mar 20, 2019

Flooding Devastates Nebraska

(Story)

Mar 19, 2019
Mar 01, 2019

Spring Sports Preview

(Story)

Feb 22, 2019

Heartbreak at Home

(Story)

Feb 14, 2019

What Is Too Much?

(Story)

Jan 30, 2019

Tom Brady: You Either Love Him or Hate Him

(Story)

Jan 24, 2019

Senioritis: Is it real?

(Story)

Jan 14, 2019

Hydrocraze Saving the Environment

(Story)

Dec 18, 2018

Sporting Something New

(Story)

Dec 07, 2018

Farewell to the 41st President

(Story)

Nov 29, 2018

2018-19 Basketball Preview

(Story)

Nov 19, 2018

NSAA Leadership Summit

(Story)

Nov 12, 2018
Nov 02, 2018

Sub-District Champs

(Story)

Oct 24, 2018

County Government Day

(Story)

Oct 09, 2018

Dawgs Through the Decades

(Story)

Sep 27, 2018

Are Teenagers Choosing the Right Role Models?

(Story)

Sep 11, 2018

Mr. Nate Lanik: Counselor

(Story)

Sep 10, 2018

My NSAA SAC Experience

(Story)