Reaching the Finish Line
Hang on for a minute...we're trying to find some more stories you might like.
On Tuesday, April 16, Alliance High School athletes had the opportunity to race at their very first home track meet. It has been six years since Alliance has hosted a meet. Alliance, Chadron, Scottsbluff, Hay Springs, Crawford, and Oelrichs all competed.
Many Alliance athletes were beyond excited to compete in their very first home track meet, especially the seniors who have never ran a competitive high school race at home. Senior, Hannah Weare, says, "I was super excited to run at our home track meet because I haven't had a home track meet since middle school. Seeing our community come together to help us have our first track meet in years was amazing!" Weare placed third in the 400 meter with a time of 67.32. She brought the 4×4 relay team, which consisted of her, juniors, Payton Weber and Lillie Otto, and freshman, Amauri Browning, to first place by passing a Scottsbluff racer and beating her to the finish line.
More seniors felt ecstatic as they placed in their first high school home meet. Senior, McClain Adamson, felt they had an advantage because they know the track. He says, "We were used to the curves and how it felt to run on. It was just like going to practice with a lot of people watching." Adamson placed second in the 400 meter dash with a time of 52.47. "My goals for this track meet were to set a PR in my open 400, run fast enough to get the 4×4 gold medal and a PR, and to just have fun and enjoy it."
Seniors, Mason Hiemstra, McClain Adamson, Eric Pollack, and sophomore, Devin Hughes, placed first in the 4×4 relay with a whopping time of 3:30.03, which is only five seconds slower than the school record. Pollack says, "It sure feels amazing being so close to the record this early in the season." The boys have high hopes for their relay. They believe that running against more challenging competition will allow them to achieve a faster time and get closer to the record. Adamson says, "Everyone's goal is to have a school record, and to know we are that close is unreal."
It was a successful first home track meet for Alliance. A number of Bulldog athletes placed in their events, and the community voluntarily helped out. Scottsbluff won the meet with a total of 662.5 points, and Alliance came in second with 442 points. Great job, athletes!
About the Contributors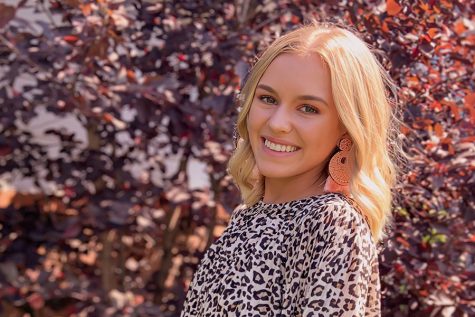 Maycee Quick, Editor
Hello, I am Maycee! I am a senior at Alliance High School, and this is my second year writing for the Spud! I am the daughter of Tara and Deon Quick. I...