Past Spudsters
Hang on for a minute...we're trying to find some more stories you might like.
Three past Spudsters have successfully continued their journalistic education and passion after high school. These Spudsters are either writing for their college papers, taking pictures for magazines, or even broadcasting on the radio.
Peyton Stoike, who graduated from Alliance High School in 2017, continued her education at the University of Nebraska at Lincoln. Peyton Stoike was the only freshman in Alliance's journalism class. She says, "Normally, the program at AHS is just for sophomore's and somehow, I finagled my way in, and I would not have traded any of the four years for the world." Stoike says that she did not realize she wanted to go into journalism until the end of her junior year, for she had prior wishes to go into the field of elementary education. UNL's Journalism and Mass Communications is one of the best journalism programs in the nation, so she knew that was the way to go to guarantee a bright and successful education. Peyton is double majoring in Journalism and Sports Media & Communications with a minor in Leadership & Communications. She has been involved in numerous different endeavors that have furthered her education in the field of journalism. She has worked two years for The Daily Nebraskan, the student newspaper at UNL. For her class in digital photojournalism with professor Bruce Thorson, she went on a trip to Ulaanbaatar, Mongolia to make a documentary over the seven Buddhist nuns who live in a shared Buddhist center. "Everything that Digmann taught me and or just being in journalism taught me, I have carried over into what I am doing now. I can proudly say that I am glad I didn't go into elementary education, that journalism was the right choice for me and I would not trade any of the projects, papers, photos, pieces, decisions, opportunities or hard work for anything."
Parker Cyza graduated from AHS in 2014 and continued his education at UNL as well. He graduated from UNL in December of 2018 with a degree in both Journalism and Broadcasting. He works in broadcasting, and hosts a radio show called 'Cyza & Stephens' on Lincoln's 93.7 The Ticket. He says, "When I started at The Spud, I knew I was interested in the field of journalism, but I didn't know a single thing about it. High school journalism, and particularly The Spud, taught me how to form good, journalistic questions." He says high school journalism allowed him to formulate good quotes and thoughts from the people he was interviewing. Cyza has written for the Alliance Times-Herald during the summer when he was in highschool. He covered sports including Spartans baseball, club softball, and Heritage Days activities. He continues to write guest columns for the Times-Herald covering Nebraska Cornhuskers football. He also writes for the Central Nebraska Prep magazine, previewing high school athletics for the publication.
Sophia Sanchez, another past Spudster, graduated from AHS in 2017. She says, "I am currently pursuing a bachelor of science in psychology. I just finished my second year, so the MCATs are right around the corner. My end goal is to attend medical school and specialize in neurology." But even though her focus is no longer involved in Journalism, over her last two years at UNL, she has been an opinion columnist for the Daily Nebraskan. She loves to write about immigration and health. She says that high school journalism with the Spud taught her about management and teamwork. Due to a class conflict, she had to learn how to manage her time independently while working as a team. This has been very beneficial for her when it comes to her studies, allowing her to balance her time spent with both schoolwork and extracurriculars. "Working with a team of talented writers and editors at the Spud allowed us to foster valuable team working skills akin to those we would encounter in the 'real' world. This team became an ever-evolving family over the course of my time there."
These are just a few of our past Spudsters that have taken what they have learned here and are creating a successful future. Present day Spudsters are proud of the past Spudsters and their accomplishments.
About the Contributors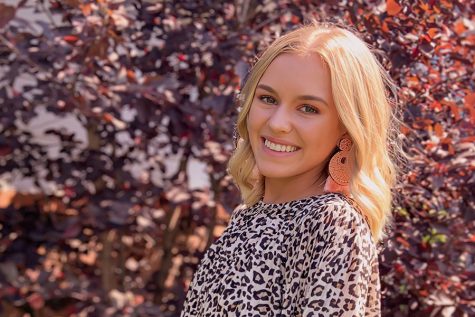 Maycee Quick, Editor
Hello, I am Maycee! I am a senior at Alliance High School, and this is my second year writing for the Spud! I am the daughter of Tara and Deon Quick. I...