AHS Spirit Walk
Alliance High School students got an early taste of homecoming spirit on Friday, September 2nd: Bulldog style. Dawg Pound members, cheerleaders and the AHS Drumline were called out of class at 11 a.m. and shortly after, the booming sound of the drums roared through the halls.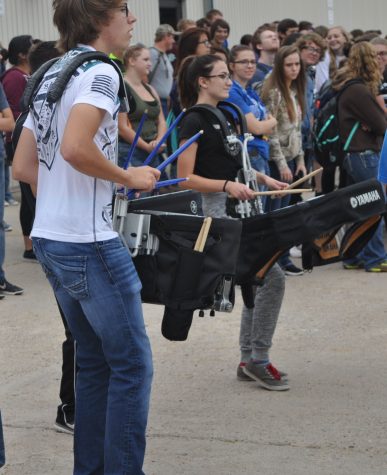 The Dawg Pound, along with the Cheerleading squad, ran through the halls, leading students, emptying the school, one classroom at a time. The drumline was in the middle of it all, beating their drums, adding that extra touch to it all. Everyone followed suit, clapping in the halls, making noise and getting pumped!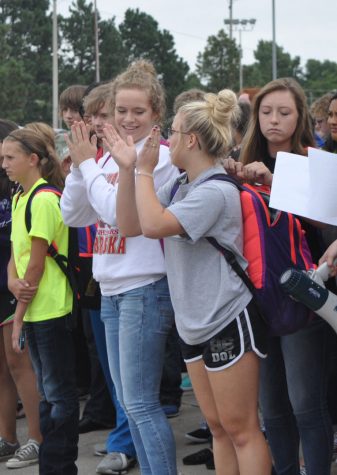 Students were led out of the library doors and from there, congregated around the drumline and cheerleaders in the parking lot between the two buildings. The drumline finished their number and the cheerleaders led everyone in three cheers.
Student Council President, Dani Carter, Vice President, Josie Otto, Secretary Treasurer, Alivia Carlson and Public Relations Officer, Emmy Green, moved to the middle of it all and announced the spirit week dress days. They also encouraged everyone to put together Mini Olympic teams and lip sync groups.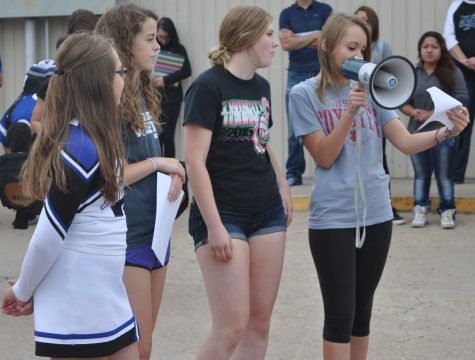 When asked for her thoughts on the Spirit Walk, junior cheerleader, Serenity Sterkel said, "Getting to do the spirit walk was a great experience! Whenever I get to cheer in front of any crowd, especially our Dawg Pound and other students, I can't do anything but smile! It's by far the best feeling ever, getting to spread our spirit!"
Homecoming week officially kicks off Tuesday, September 6th with Nerd Day! The Spirit Walk was proof that Homecoming 2016 is to be the best and most fun-filled one yet! Be sure to look at the SPUD website everyday for all of the homecoming coverage!