2017 Christmas Choir Concert
On Monday, December 11, the choirs of Alliance High School held their annual Christmas concert in the Performing Arts Center.
Christina Kloch, the choir director opened the show by welcoming the audience before the first group, Velocity, stepped onto the stage. Students were dressed in ugly Christmas sweaters showing off their Christmas spirit as they flooded onto the stage.
Velocity performed "Throw Open Your Shutters!", "There's Still My Joy", "Ding-a Ding-a Ding", and "What Will Santa Claus Say?". All four songs consisted of a the common christmasy jingly sound and some dancing, but during the third song, "Ding-a Ding-a Ding", freshman Calysta Trevino took center stage. Trevino sang a solo and then joined back in with her classmates which earned the velocity class a job well done from the audience.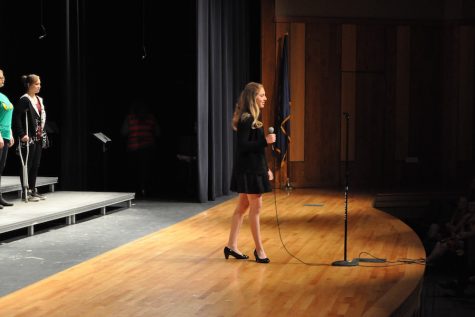 The next group to gather on stage was mixed choir. Of all of the choir groups that performed, Mixed Choir was the most diverse. The musical sound stuck to the classical sound, but it did feature a small percussion section of bells, drums, and finger cymbals during their first song selection, "Ring the Bells on Christmas Day". The bells, provided by the Methodist Bell Choir, were played by Tristan Bleisch, Austin Paterakis, Katelyn Nunes, Liz Johnson, Katrina Ensign, and Haleigh Dean. The drums were played by Tyler Girard and the finger cymbals, by Shailee Thompson. This group was conducted by student teacher, Zach Banzhaf.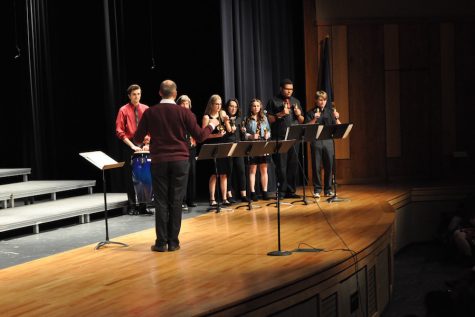 As the performance continued, the students playing the bells and drums cleared their equipment from the stage. They walked back onto stage joining in with the rest of the students for the final three songs "Catch A Snowflake", "Stars I Shall Find", and "Patapan Fantasia" where they danced along to the tunes they were singing.
The third, and final group to perform, was Harmonics. This choir group consisting of boy and girl grouping pairs which stuck together for a majority of their stage time. The boys and girls harmonized through four different songs. During the first song, "Sending You a Little Christmas", the class and the four soloists were conducted by senior Bailey Alwin. The soloists included: Mareesa Buskirk, Tyler Girard, Cherokee Purviance, and Grace Tolstedt. All students joined in for the second and third songs "Glow" and "Mata Ne (See You Again)". The third song, "Mata Ne (See You Again)", was the special selection for the final group of the night. Not only had the song been conducted by sophomore Aubrey Garrett, but she also wrote it. Harmonics finished the night with "Run Rudolph Run".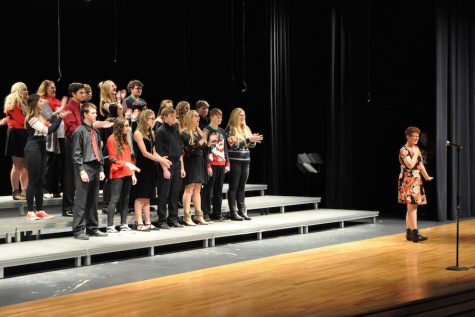 After all three groups sang their hearts out in their Christmas sweaters, Ms. Kloch took the stage to finish out the show. She thanked all of the parents, students, and guests who came to show support for the choirs, and then proceeded to close out the 2017 choir Christmas Concert by asking the audience to join in by singing the well known and holiday favorite, "Silent Night".