A Change In Their Swing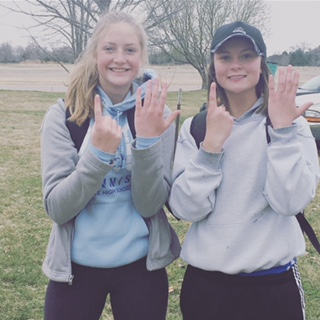 Hang on for a minute...we're trying to find some more stories you might like.
The Alliance High girl's tennis team has been in full swing for a couple of weeks now. This year, the tennis team players are placed on varsity by a pyramid. The pyramid is set up by challenge matches against teammates, placing them in varsity order. Effort and attendance at practices also has an impact on what place the girls have in the pyramid. Alliance played their first duel the season on March 30 against North Platte and won with a team score of six to three. Each year, the tennis team heads to North Platte with some negative energy because of the hard competition, but not this year. This year, the girls played hard and won for the first year since I have been at Alliance High School.
The team stayed in North Platte and played the North Platte Invite the next morning. The varsity lineup for Friday was Courtney Little Hoop playing number one singles, Alivia Carlson at number two doubles, McKenna Romick and Elise Stoike for number one doubles, and for number two doubles, Diana Acosta and Uriah Little Hoop.
The North Platte invite consists of ten teams, so North Platte splits the teams into two pools of five teams. Pool A was North Platte, Kearney, Holdrege, Ogallala, and Scottsbluff. Pool B was McCook, Grand Island, Alliance, Hastings, and Lexinton.
The girls had a very successful tournament considering it was only the first of many that have come this season. This was sophomore Diana Acosta's first tennis tournament; after talking to her and how she felt about how she did, she responded " I did do worse than I expected but the trip was a blast. I can't wait to keep working hard and for the many more trips to come." She continued, "Now that the season is slowly trickling down to an end and the girls below me are fighting for a spot on the pyramid, I will have to keep working hard not to lose my spot." Diana and Uriah ended up placing ninth after winning the crossover match against Scottsbluff. Alivia, the number two singles also placed ninth. The number one singles Courtney Little Hoop placed seventh. The returning number one doubles team Elise Stoike and McKenna Romick placed sixth. "We are already doing so much better than last year. Kenna and I were never even close to sixth last year, so I am extremely excited to see where this season takes us." said Stoike
The tennis team is getting closer and closer to state with just a few tournaments left. The number of matches that the girls win determines how they will be ranked for the state tournament, only the top six varsity girls will go. The girls have had a lot of comments on how much they have improved by other coaches, which means that they have really had a change in their swing.