The Decision of a Lifetime: Military Perspective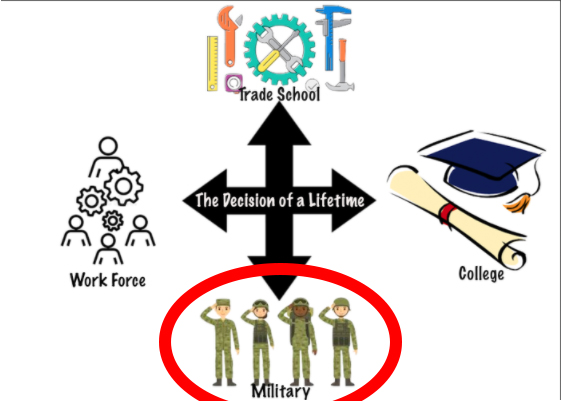 The Decision of a Lifetime: Military Perspective
There are many options for young high school seniors after they graduate. The decision on what to do after you graduate may be one of the toughest you will ever make in your life. Some people decide to go to college, others to go straight to the workforce and some decide to attend a trade school. Another viable option would be to join the military. 
After high school, many young men and women decide to enter the military either to serve their country, travel or even just get in shape. According to mililtarywallet.com, "The military provides advanced technical training in a variety of career fields and also offers opportunities for additional training when you are off-duty. Many military members are able to attend college courses that are often paid for by tuition assistance." In an interview with senior Bryson Darveau, and he said, "I plan on going into the ROTC part of the army which will allow me to go to college and further my education at the same time. Some of the benefits [of joining the Army] are that they help pay for my education and [help improve] my health." The ROTC program in the military stands for The Reserve Officers' Training Corps. It is a group of college and university-based officer training programs for training commissioned officers of the United States Armed Forces. This allows the person entering the military to attend college and serve their country at the same time. 
When asked why one should go into the military Darvou responded, "I believe people should serve in the army because others have died to protect the rights they have and they should do their time to protect those same rights for others." Another benefit of joining the military is serving your country, and if you feel particularly patriotic, the military might be for you. The military can be a great learning experience. In some cases, learning leadership, grit and responsibility may be more beneficial than earning a degree. 
Contrary to popular belief, you do not have to go to college to be successful, and in some instances, choosing a different way of life may be more beneficial to you. Whether you decide to serve your country, attend a trade school or go straight into the workforce, you can decide your own destiny, and you can choose what will make you happy.