Almost Over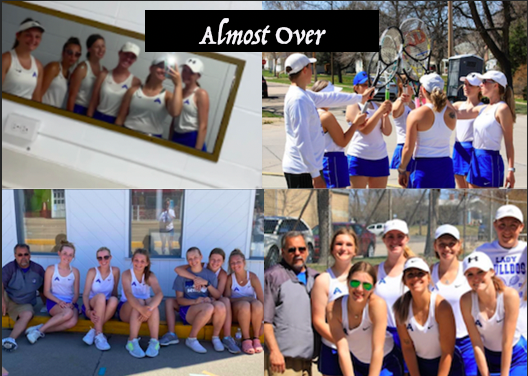 The end of the school year is finally here. Everybody's hard work, dedication and stress is going to pay off. It is almost time for hot summer days, bonfires, camping, lake days and many more fun activities. Before all of this can happen, though, things at school need to be wrapped up. Girls tennis is one of these things that is, sadly, going to be over sooner than expected.
The girls tennis season has been in full swing since the beginning of March. Before official practices were required in March, Scott Mills – head coach of the team – hosted off-season practices at the local Alliance Recreational Center, otherwise known as the ARC. Since then, there have been multiple long practices, duals, triangulars and tournaments. This past Tuesday, May 11, the girls traveled to Scottsbluff for an invitational. The girls will be traveling one last time before state tennis to Ogallala for a quad. The teams attending this quad will be Alliance, Scottsbluff, Ogallala and North Platte.
Girls state tennis is scheduled to start on May 20th and will be held in Lincoln, Nebraska. This event will carry through to the 21st. The top six players on the team will travel to this event. The top six players are also known as the varsity team. The coach can bring two alternatives if they so choose.
Tennis has four positions: number one singles, number two singles, number one doubles and number two doubles. This year's state qualifier for number one singles is senior, Courtney Cox. This was her first year, not only qualifying for state but being on the tennis team. Sophomore, Haley Weare is the state qualifier for number two doubles. Along with Cox, this her first year for both. The number one doubles team qualified for state are seniors Payten Gibson and Kelsey Horton. Gibson has been on the team all four years of her high school career and is qualifying for her first time. Horton is in the same boat as Cox and Weare. The number two doubles team is junior Brooklyn Branstiter and Sophomore Karlie Jensen. Branstiter has played tennis for three years of high school and will be attending state tennis for her first time. This is Jensen's first year playing tennis and qualifying for state.
Even though much of the team consists of new players, the girls are hoping on taking some names and bringing home some medals or even trophies. Through the crazy season of wins, loses, masks, eating raw chicken and even getting stuck in elevators, the girls have pushed through and shown that they have what it takes. Good job on a great season and good luck at state ladies!