Above and Beyond an Athletic Director
Anita James has been the Athletic Director (AD) at Alliance High School for a few years now. Most people think she just takes care of athletic events, but there is so much more that people do not see. James oversees all of the activity programs, performs some assistant principal duties, and is in charge of evaluating, hiring and letting coaches go. You will see her in the gym preparing for all games and activities. She also takes care of the smaller things, such as counting the money made at events, making rosters and developing programs. James also works with the Nebraska School Activities Association (NSAA) to make sure all Alliance High School activities are in compliance with all of their bylaws, rules and regulations. All athletes or performing arts students have to be entered into the NSAA database and follow eligibility rules. James goes above and beyond to make sure our school excels in every way possible through her position as the AD.
James has many reasons for why she wanted to become an athletic director. In an interview I conducted with her, she stated, "I have always had a passion for sports. They were a big part of my life when I was growing up. I have also always had a passion for working with kids, and I wanted to be an administrator. That's why I wanted to come into this position! Plus, I was interested in working with the fine arts and performing arts as well, outside of just sports." You will find James at all school activities and sporting events, even visiting games as well. She may be behind the scenes of all events, but she is the person keeping everything in check. Her favorite part of the job is, "Seeing our kids outside of the classroom excelling in something that they love to do."
Due to Covid-19, many changes have to be made throughout the school, especially with sports. The NSAA has changed the rules for game attendance due to Covid-19 restrictions. James says, "It has been very stressful. In the fall, we had some restrictions, but I feel like the winter sports were more restricted as far as fan attendance. That was very stressful, because I thrive on packing the gym, having it full and loud, fans cheering, the band playing and our student section cheering. So, when we had to limit that, it was very frustrating. I felt bad turning people away, and getting household lists put together was extremely stressful." This year has been difficult for everyone, but thanks to Ms. James, events have been a little less stressful.
The SPUD wants to thank James for being such an amazing athletic director, and for everything that she does for our school. We can not wait to see what you continue to do for the school and the community in the future. Go bulldogs!
About the Writer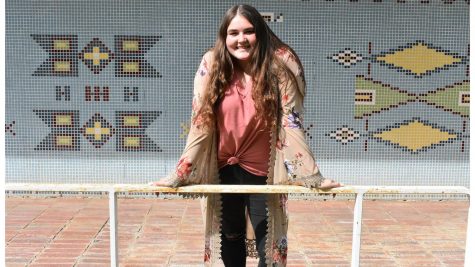 Karly Wangler, Staff Writer
Hey everyone! My name is Karly Wangler, and I am a senior at AHS. I am 17 years old, but will turn 18 in October. I am the daughter of Tim and Jeralee...