Volleyball Preview 2020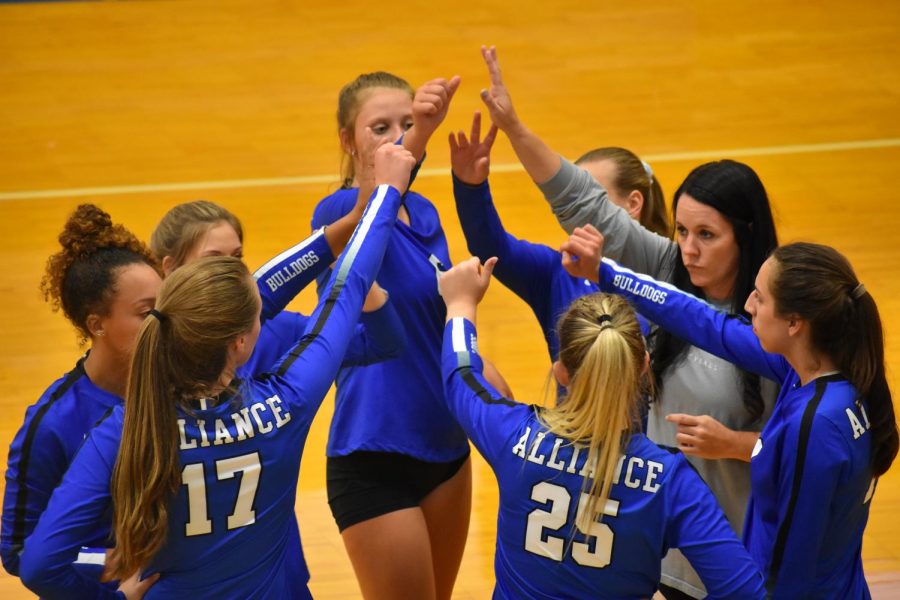 2020 is nothing short of crazy, but luckily, the Bulldogs have been able to participate in fall sports! One of these fall sports that is going on right now is volleyball. This year, there are only two seniors on the team, making this year's volleyball team very young. Head coach, Jessica Kaiser has returned to coach for the Lady Bulldogs for another year.
Coach Kaiser has been coaching the Lady Bulldogs for six years, with four years as head coach. This is her tenth year coaching, as she coached in a different school before Alliance. When asked about how it was only having two seniors on the team, she responded, "We are a very young team with only two seniors. They are great girls that are working hard in leading the team. I think it has also given some younger kids the opportunity to step up into leadership positions and positions on the court. We are very thankful for Billi and Kelsey's commitment to our program and for all the hard work they have put in over their 4 years here." Coach Kaiser believes that there is a lot of potential in the team for it being so young, but they are focusing on one game at a time. She believes that there is an amazing group of girls who are working hard every day to make improvements. 
The Lady Bulldogs kicked off their season with a scrimmage on Thursday, August 20, 2020. This scrimmage was very different from other years, taking into consideration how small the group is this year. Having so little players opened up opportunities for the younger players to have playing time. Coach Kaiser said that having the younger girls able to play so much in so many different positions is great experience for them. Billi Alvarado, a senior on the team, said "I think our scrimmage went well. We definitely could've done better, I just think we all were a little nervous with people watching us." Kelsey Horton, the other senior on the team, said "I think that the scrimmage went well, we are able to have competitive inter-squad scrimmage which really helps us develop as a team."
Alvarado, a returning player, is a varsity setter. She has been playing volleyball since she was a fourth-grader! She believes that they have the potential to make it to state, but there are small things that need to be worked on. Alvarado, being one of the two seniors on the team, says, "Having only one other senior on the team with me is very different just because every other year there has been at least five seniors on the team. With only two of us, it makes us a very young team." 
Horton, a returning player, is a varsity defensive specialist (DS). Horton states that she has been playing volleyball for as long as she can remember. When asked if she believes whether or not the team has a chance at state, she claims " It's hard to look so far into the future, especially with all of the uncertainty around the season. We just have to play every game like it's our last game because, in reality, it could be over at any time." Horton has been stepping up as a leader, being one of the two seniors, and working hard to lead the small team. 
With all of the chaos in the world today, there have been some changes in the volleyball world. At practices, there is sanitation for both players and the balls. Masks have to be worn when need be and temperatures are taken before practice is allowed. To begin, while on the court, shaking hands after the game is prohibited, only one captain can be at the coin toss, and they can not switch sides between sets. While all of this seems crazy, the Alliance Bulldog volleyball team has been pushing through! Good luck girls, and keep being amazing!
About the Contributor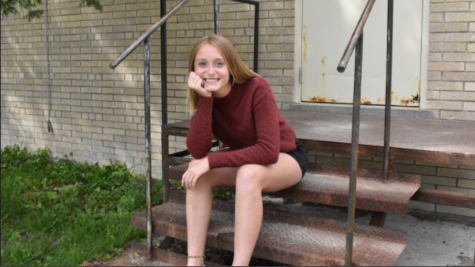 Brooklyn Branstiter, Staff Writer
Hey guys!! It's Brooklyn Branstiter. I am a 16-year-old in 11th grade. This is my first year on the Spud. I am the daughter of Shauna and Aaron Branstiter....