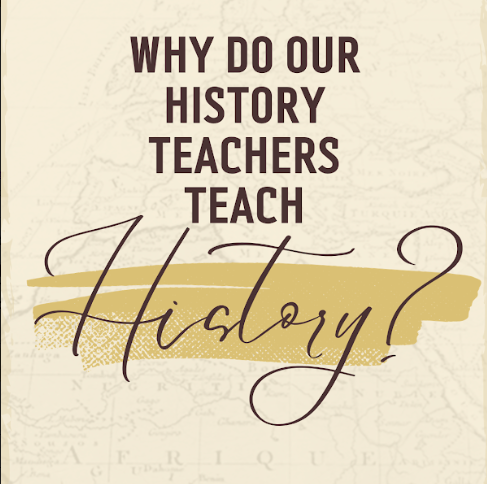 Have you ever wondered why our history teachers here at AHS teach history? Well, I dove deep into it and asked them a series of questions to seek this answer. Do our teachers have a real passion for history or was it a last resort for their career?
Mr. Hasz is in his fourth year of teaching here at Alliance High, teaching Civil War and US History. The reason he teaches this subject is because, "it's one of my favorite things about history, I don't really like world history." Hasz said the reason he wanted to teach history is, "…I feel if we don't learn from our history, we will make the same mistakes again." Hasz said his reason for teaching history is he has a real passion for history from being in the army and living some of it himself. Hasz stated that he just went over JFK and the October missile.
Mrs. Swartz is our Social Studies 9, American Government, and Current Events teacher. She is in her second year of teaching here and has taught these classes for both years. Swartz stated the reason why she teaches these classes is because, "It's very fascinating learning about other cultures and other places. Plus, it's good stuff to know." When I asked why she found history important, she replied with, "Because without understanding and knowing history. There is a greater possibility that the bad things that happened in the past can potentially happen again." The reason Mrs. Swartz became a teacher because she loves history as a subject and also wanted to teach students more about it! She also hopes that she can inspire her students to love the subject as well.
Mr. Holst is in his second year of teaching at Alliance high school, he teaches American history and Sports history. When I asked why he teaches these classes, he responded with "The interactions I am able to have with students on a daily basis and the debates that many of those interactions lead to." I asked Holst why he wanted to teach history, he told me, "I wanted to teach history because it is the most interesting subject to me. I like reading and expanding my knowledge on history. History is constantly being re-evaluated and interpreted differently. I like being able to pose questions to students to help them form their own opinion on a specific topic related to history." Holst says his favorite thing about teaching is listening and reading different perspectives of students. He also stated that there is no right or wrong in history, it is a matter of finding new perspectives and definitions to resolve the past. I lastly asked Mr. Holst why he thinks that history is important. He responded with an answer that shocked me, "I find it important to learn about our own countries' history to learn where we came from, where we are now, and where we are going. Oftentimes history does in fact repeat itself and developing a narrative about your own country and people it's important moving forward. I find it crucial to study and examine the past to better predict the future."
Story continues below advertisement
Lastly, I interviewed Mr. Wells, who is in his 9th year of teaching at AHS. He teaches Social Studies 9, American at War, and Holocaust History. Wells said he loves teaching history because "I love history, but specifically I love teaching about why history happened the way that it did. I often tell my students that they aren't in my classes to learn what happened but to learn how and why it happened." When I asked him why he wanted to teach history, Wells replied, "I kind of wandered into history because it's what I was good at and because I enjoy learning history." Wells also added that his favorite thing about teaching history is "it is the reason why we are here, and when we understand why things happened we can stop them from happening again in the future. As the saying goes, "History repeats itself." Those who do not know their history are doomed to repeat it. I also love the engagement that my students have with history. No matter whether a person says they like history or not, there is always something about history that can catch their attention. History has something for everybody." Lastly, I asked why history is important to him. Wells said, "History is important because it gives us insight into who we've been, who we are, and who we can be. We back our own history every day through our choices and our actions. What will your history be? How do you want people in the future to remember you? We are all in control of writing our own history."
The four history teachers explained many things to me in the interviews about why they teach history and it has taught me a lot. These interviews have showed that our history teachers are very passionate about what they teach and want to make sure that their students get the best education.