Second Semester Stresses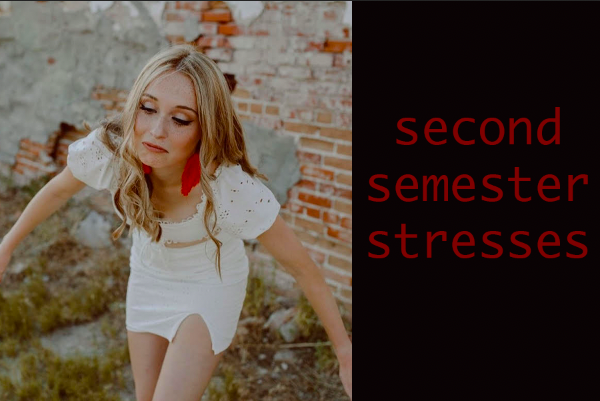 The end of the school year is nearing and this, to me, is a bittersweet realization. I will have to leave my friends and family behind, but I will also be able to forge new paths and have a completely different sense of individuality. I am constantly thinking about the good and the bad that may come with college, but I cannot let these thoughts take over my mind. It is the final semester of my high school career, and I need to finish strong.
This semester, I am registered in three dual credit courses. I hesitated to take these classes because I knew that they would be difficult. I could either take easy classes my senior year to ensure a 4.0 GPA and prioritize a fun final year, or I could take these dual credit classes and get a head start on some core college classes. Last semester, I was in three college classes: English Composition I, Statistics and American Government. These classes were, without a doubt, some of the hardest classes I have ever been in. The amount of work assigned and the difficulty of the work are vastly different when compared to the work assigned in high school. With a lot of hard work though, I maintained my 4.0 GPA. I will continue to work hard this semester and hope to finish at the top of my class.
This semester I am taking English Composition 2, Algebra and Economics. These classes will most likely be at the same difficulty level as last semester. However, I have many new things that will interfere with my schedule. I am in tennis, FBLA and National Honors Society. Competitions for FBLA are coming up which will cause me to miss my classes, and tennis practice will begin to occur every day after school. On the weekends, I will have tournaments or duals. While I was the softball manager last semester, I was able to sit on a bench and do my homework or sit in a hotel room and get my work done. With me being a player in tennis, this will not be able to happen. For National Honors Society, we are starting up our community service projects and these will take up a lot of my time. I am starting to get a routine down, I just have to make sure that I stick to it.
The end of the year is so close yet so far. I want to just float through the rest of the year, but I know that the challenges I have myself up to will be much more worthwhile. I have to buckle down and put my schoolwork before anything else. Some people say that senior year is one of the easiest years of high school, but in my opinion, it can go either way. Personally, it has been one of the hardest. I am holding out to finish the year strong!