Upcoming Entertainment: May 2021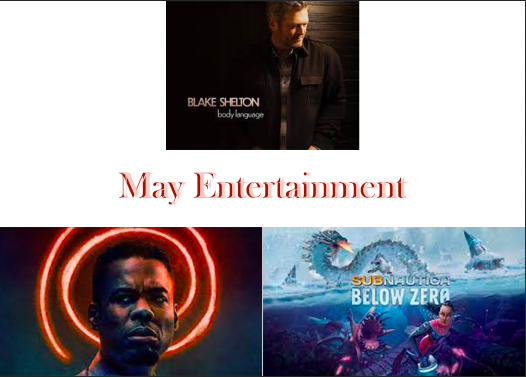 Another month of the year has passed, making it May. This is the start of summer, flowers are now blooming, and you can finally start having time to yourself. Some new movies, music and games are being released that can help you stay entertained with all of your extra time!
Movies
Wrath of Man (R) – May 7
"H" is a mysterious character working for a cash truck company that is responsible for moving hundreds of millions of dollars around the city of Los Angeles each week. 
Directed by: Guy Ritchie
Screenwriter: Marn Davies
Starring: Jason Statham, Alex Ferns, Holt McCallany
Genre: Crime, Action
Spiral (R) – May 14
Working in the shadow of his father, a police veteran, Zeke,  and his rookie partner take charge of an investigation of murders that eerily resemble the city's past. Entrapped in a deepening mystery, Zeke finds himself in the center of the killer's gruesome game. 
Directed by: Darren Lynn Bousman
Screenwriter: Josh Stolberg 
Starring: Chris Rock, Samuel L. Jackson, Max Minghella
Genre: Horror, Mystery, Thriller
Cruella (P-G 13) – May 28
A young girl named Estella, a clever and creative girl is determined to make a name for herself amidst the punk rock revolution with her designs. In the streets of London, she makes friends with two thieves who have a love for mischief in common. Her passion for designing catches the eye of fashion legend Baroness Von Hellman. A turn of events occurs causing Estella to release her wicked side and become known as revenge-bent Cruella. 
Directed by: Craig Gillespie
Screenwriter: Tony McNamara
Starring: Emma Stone, Emma Thompson, Mark Strong
Genre: Comedy, Crime
Music
Bebe Rexha: Better Mistakes – May 7
Better mistakes is the upcoming second studio album by American singer-songwriter Bebe Rexha. It serves as the follow-up to her first studio album, Expectations. 
Blake Shelton: Body Language – May 21
The country star Blake Shelton tweeted "The moment you have ALL been waiting for .. Excited to release my 12th studio album #BodyLanguage on May 21st!" He wrote, "I am very proud of what we have put together and can't wait for y'all to hear this new album!!!" 
Olivia Rodrigo: Sour – May 21
Olivia Rodrigo was the underdog until she released her hit single 'Drivers License' and there was no turning back. After tasting success, the young and dedicated cooner is now aiming to bring her name even higher with her debut studio album called 'Sour'. 
Games
Skate City – May 6
Skate City is all about customizing your character and then traversing the iconic scenery of Osio, Barcelona and LA on a skateboard as you wrack up different kinds of tricks. 
Console: PS5, PS4, PC, Xbox Series X/S, Xbox One, Switch, iOS
Publisher: Snowman
Developer: Agnes Games
Genre: Sports
Subnautica: Below Zero – May 14
This open-world survival action-adventure game is going to be released as a sequel to the hit 2018 game, Subnautica. 
Console: PS5, PS4, PC, Xbox One, Xbox Series X/S, Switch
Publisher: Unknown Worlds Entertainment 
Developer: Unknown Worlds Entertainment
Genre: Adventure
King of Seas
A universe full of amazing characters, epic adventures and breathtaking missions will keep you anchored as you attempt to become the king of the sea. 
Console: PS4, Xbox One, PC, Switch
Publisher: Team17
Developer: 3D Clouds
Genre: Role-Playing, Adventure