Upcoming Entertainment: April 2021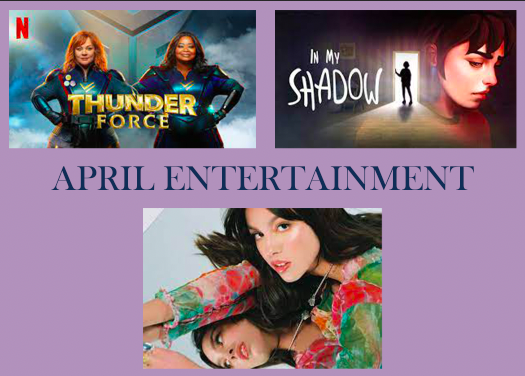 April is among us, which means jokes, pranks, being outdoors and the start of beautiful weather. All jokes aside, there were and are going to be some amazing new movies, music and games released this month! Here are a few. 
Movies
Every Breath You Take (R) – April 2
A psychiatrist, whose client commits suicide, finds his family life disrupted after introducing her surviving brother to his wife and daughter. 
Directed by: Vaughn Stein
Screenwriter: Casey Affleck
Starring: Casey Affleck, Michelle Monaghan, Sam Claflin
Genre: Thriller, Mystery
Thunder Force (PG-13) – April 9
In a world where supervillains are commonplace, two childhood best friends reunite after one devises a treatment that gives them powers to protect their city. 
Directed by: Ben Falcone
Screenwriter: Ben Falcone
Starring: Melissa McCarthy, Octavia Spencer, Bobby Cannavale
Genre: Comedy, Action, Fantasy
Romeo and Juliet (R) – April 23
An adaptation of Shakespeare's tragedy set in modern-day Italy where two young lovers strive to transcend a violent world where Catholic and secular values crash.
Directed by: Simon Godwin
Screenwriter: Carey Williams
Starring: Josh O'Connor, Jessie Buckley, Tasmin Greig
Genre: Romance, Music, TV Movie
Music
Olivia Rodrigo: deja vu – April 1
Eighteen-year-old Olivia Rodrigo has recently been known for her hit heartbreak ballad, Drivers License. The young female artist wrote deja vu in hopes of showing that she is a versatile songwriter and can write more than sad songs. 
Iggy Azalea: Sip It – April 2
Iggy Azalea teamed up with Tyga for the bass-heavy track "Sip It" and a colorful video. This is their second collaboration in three years. 
Demi Lovato: Dancing With The Devil – April 5
After an overdose nearly ended her life, Demi Lovato sings powerfully and directly about her past and who she is striving to become. Her song Dancing With The Devil expands to reveal the person Lovato aims to be today; there is lots of shed skin, rewritten endings and references to reaching heaven. 
Games
War Theatre 2: Blood of Winter – Max Edition – April 6
Take on players worldwide with one of seven unique hero characters while completing quests to unlock new perks and gain an edge over your competitors.
Console: PS4, PS5, PC
Publisher: Arcade Distillery
Developer: Arcade Distillery
Genre: Strategy, Turn-Basics, Tactics
In My Shadow – April 8
In My Shadow tells the story of Bella, a young woman who had a fallout with her family years ago. She has received a text message from her father and finds herself struggling to respond. Her childhood memories come to life as shadows on the wall of her house, and you must use those shadows to solve unique puzzles and help Bella try to let go of her past. 
Console: PC
Publisher: Alcon Interactive Group
Developer: PlayBae
Genre: Indie, Platform Game, Casual, Adventure
Sea of Thieves Season 2 – April 15
Sea of Thieves will be raising anchor and embarking on its second official season – bringing new content, fresh player progression and associated rewards. 
Console: PC, XSX, XBO
Publisher: Microsoft Studios
Developer: Rare
Genre: Action-Adventure, Pirate