Upcoming Entertainment: March 2021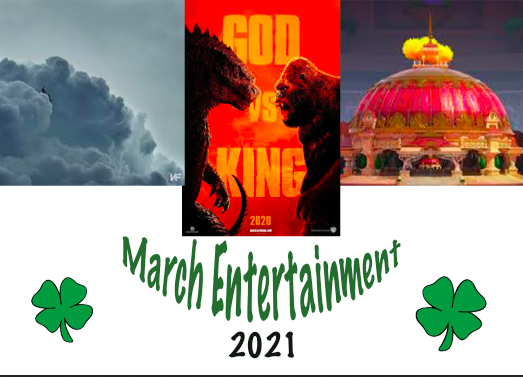 Even though we are unsure of how lucky we will be with this month's weather, we found the pot of gold when it comes to new movies, music and games. Here are a few of the top releases for March. 
Movies
Raya and the Last Dragon (PG) – March 5
Long ago, in the fantasy world of Kumandra, humans and dragons lived together in harmony. But when an evil force threatened the land, the dragons sacrificed themselves to save humanity. Now, 500 years later, that same evil has returned and it's up to a lone warrior, Raya, to track down the legendary last dragon to restore the fractured land and its divided people.
Directed by: Don Hall, Carlos López Estrada
Screenwriter: Adele Lim
Starring: Kelly Marie Tran, Awkwafina, Gemma Chan
Genre: Fantasy/Adventure/Action/Family
Coming 2 America (PG-13) – March 5
Prince Akeem Joffer is set to become King of Zamunda when he discovers he has a son he never knew about in America – a street-savvy Queens native named Lavelle. Honoring his royal father's dying wish to groom this son as the crown prince, Akeem and Semmi set off to America once again.
Directed by: Craig Brewer
Screenwriter: Kenya Barris
Starring: Eddie Murphy, James Earl Jones, Arsenio Hall
Genre: Family/Comedy
Godzilla vs. Kong (PG-13) – March 31
In a time when monsters walk the Earth, humanity's fight for its future sets Godzilla and Kong on a collision course that will see the two most powerful forces of nature on the planet collide in a spectacular battle for the ages.
Directed by: Adam Wingard
Screenwriter: Max Borenstein
Starring: Alexander Skarsgård, Millie Bobby Brown, Kyle Chandler
Genre: Science Fiction/Action
Music
J-Hope: Blue Side – March 1
In questioning by a news reporter, J-Hope explained what his new song would be about. He said, "I like the wind and the sky. I want to go back in time when I was so clueless. The blue sky and wind and full of good memories. I want to go back to the 'Blue Side.' That's what this song is about."
Selena Gomez: REVELACIÓN – March 12
When Selena was interviewed about her upcoming album, all she said was, "I'm so excited to share this with you, and so proud of my heritage." This will be her first EP in Spanish. 
NF: Clouds – March 26
The rapper announced that the song is the first track from his forthcoming new 10-track Mixtape, Clouds. The mixtape features two collaborations including HOPSIN and TECH N9NE.
Games
Maquette – March 2 
This unique and beautiful puzzle game sends players through layers of graceful and mind-bending challenges that test their ability to see things through a new perspective.
Console: PC, PS4, PS5, Microsoft Windows
Publisher: Annapurna Interactive
Developer: Graceful Decay
Genre: Puzzle/Adventure/Indie
Harvest Moon: One World – March 2
Nothing says fun like farming and flirting. Harvest Moon is back with a new, massive adventure that has players explore, grow food, raise animals, woo the locals, and much more. 
Console: Nintendo Switch, PS4, Xbox One
Publishers: Natsume, Rising Star Games
Developer: Natsume
Genre: Adventure/Life Simulation
Overcooked! All You Can Eat – March 23
Revisit the world of Overcooked! with both games and all the DLC in one package. Test your skills as a chef on next-generation consoles and move quickly to get those orders out. 
Console: Nintendo Switch, PS4, PS5, Xbox One, Xbox Series x/s
Publisher: Team 17
Developer: Ghost Town Games
Genre: Compilation/Party