Screen Time and Social Media During COVID-19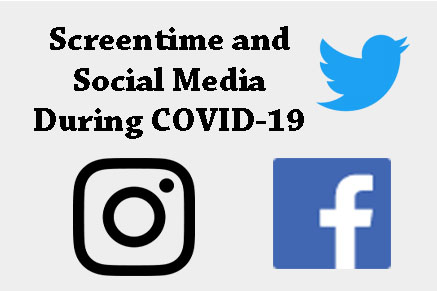 As you are aware, the entire world is practically shut down because of the Coronavirus. With the shutdown of schools and other activities, the only way to connect to the outside world is through screens.
As weird as it seems, playing video games with friends through Xbox or PlayStation is an excellent form of social engagement at a time like this. The digital game distributor Steam went from 19 million daily users in March to 23.5 million daily users in the beginning of April.
What about the risks? A recent study showed that there is not a direct link to increased screen time and decreased mental health. The mental health has to do with what is being viewed on the screen, not the screen time itself.
Of course, all schoolwork is online now. This means that we, as students, are definitely spending more time on our computers. Classes that typically don't use Google Classroom or anything online are forced to at this time. 
What about the increase of time on social media? Because we are stuck at home with nothing better to do, there has been a huge increase in app usage since the breakout, and social media networks love it. Social media networks have found ways to thrive because of this increase of usage. Twitter is growing even more as a news platform instead of simply being about entertaining Twitter users. 
Facebook and Instagram have recently changed the kind of content that they are promoting because of the outbreak. Facebook is becoming more news-related, like Twitter, and Instagram has been promoting workouts and more interactive content. 
During a global pandemic it is no surprise that people are spending more time online. Playing video games or being on FaceTime with your friends are good ways to escape reality when reality isn't looking so good.