2022 Grand March and Royalty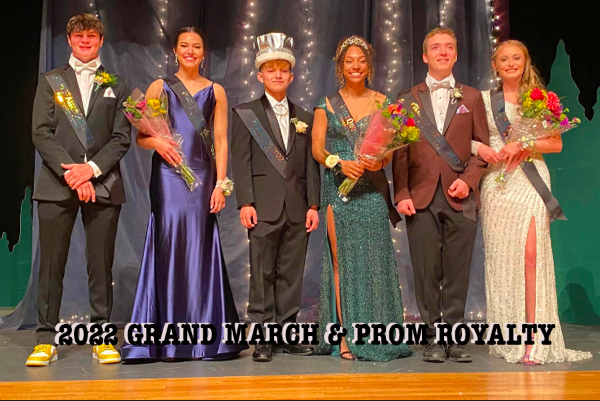 The 2022 Prom for Alliance High School took place on April 23. Every year before this dance, AHS hosts a Grand March. What is Grand March? Grand March is when people who are going to prom get the chance to walk across the stage in their outfits for the dance. At Grand March the Prom Royalty is also crowned.
This year's Prom theme was Northern Lights. For Grand March, the stage was decorated with led string lights, fake pine trees, fake mountains and blue sheer cloth. Those attending Prom together would have their names called out, walk onto the stage, stand in front of the setup, smile at the camera, then go sit down and cheer on the rest of their peers. People from the community are also welcome to attend the Grand Marches. For the community, there is a one-dollar entrance fee.
Once all of the people attending Prom walked across the stage, the royalty candidates were announced. There were twelve candidates for Prom royalty this year, six female and six male. The candidates nominated for Queen were Amauri Browning, Brooklyn Branstiter, Leyton Schnell, Macala Hood, Riley Lawrence and Emily Garza. The candidates nominated for King were Tory Picket Pin, Aiden Zaro, Jayden McCracken, Isaac Weems, Jaden Dvorak and Wade Sanders.
The Second Attendants were announced first. The Second Attendants of this year were Brooklyn Branstiter and Aiden Zaro. Next, the First Attendants were announced. The candidates who got First Attendants were Leyton Schnell and Jayden McCracken. Finally, the 2022 Prom King and Queen were announced. The Prom Queen was Amauri Browning and the Prom King was Tory Picket Pin.
This year's Grand March was beautifully set up and was a great way to start off this year's prom. Congratulations to those who were nominated for royalty!