Wrapping Up a Great Year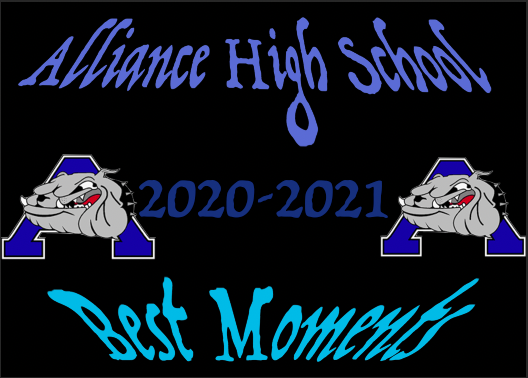 As the 2020-21 school year is reaching its final days, students are beginning to realize how fast time flies. This year has caused many bumps and bruises but has also left some pretty big positive imprints. The students at AHS have gone through obstacles that previous students from AHS will not be able to relate to. There have been mask debates, cancellations of competitions –  academic and athletic, new beginnings and now there are some approaching ends.
Starting school back in August of 2020 was a sketchy thing. Administration, students and parents were worried about the worldwide pandemic. Nobody was sure what was to come and what the results of in-person school would be. At the beginning of the year, there were a select few students who wore face coverings. As cases of the Coronavirus began to rise and surrounding schools began putting mask mandates in place, everybody was waiting to see what the Alliance Public Schools would do. 
The numbers of Covid cases continued to climb, but the school board decided on just "recommending" masks. In Alliance classrooms, the room was split into two sides: a mask side and a non-mask side. Students in the Alliance High School contracted the Coronavirus setting off a quarantine frenzy. There were points in the school year where there were as few as five students in a classroom. Students who were within six feet of the person who contracted Covid had to remain at home and participate in zoom classes for ten days. This kept many students from participating in their extra-curricular activities, creating many holes in teams across the board. This was hard on not only the students but the teachers as well. After students began attending school again there were now a select few who were not wearing masks. 
The number of cases a day slightly began to go down, so fewer and fewer students partook in wearing masks. People in our small living town were searching for a sense of normalcy, and school going back to normal was the first step. With school back in full swing, sports were able to occur. 
First was the fall sports: softball, cross-country, girls golf, volleyball and football. With the Alliance schools being some of the few without a mask mandate, there were multiple games canceled due to our lack of masks. At the Homecoming football game, many players, members of the band, cheerleaders and fans could not participate due to quarantines. One positive was that the girls golf team qualified for state. This was an occurrence that had not happened in years. 
Next was the winter sports: girls and boys basketball, wrestling and bowling. During the wrestling season, Asa Johnson and Jaxon Minnick hit their 100 wins. Philip Halstead broke the record for single-season wins with 47. These were amazing achievements that made our town of Alliance beyond proud. The girls basketball team broke their losing streak and pulled out a win mid-season. This brought some pride back to the girls and gave them some hope for the rest of their season. The boys basketball team qualified for a District Final game for the third year in a row. The bowling team was among our other winter sports in terms of making people proud because they qualified for state. 
This left the spring sports. These include girls tennis, track and field and boys golf. Due to a successful season, these sports are still in full swing with tennis and track going to state. Isaiah Martenez is a junior going to state due to his shot put throw of 50'7". The girls 4×400 relay qualified for state with their time of 4:09.48. Members of the relay team include Kenna Montes, Jaelynne Clarke, Diana Kollars, Riley Lawrence and alternate Amauri Browning. Finally, Diana Kollars qualified for state in the open 400. Girls tennis will also be traveling to attend games at the state level. All members of the varsity team qualify to travel. The seven who will be traveling are Payten Gibson, Kelsey Horton, Courtney Cox, Brooklyn Branstiter, Haley Weare, Karlie Jensen and alternate Kayla Campos. The boys golf team has also had a season of success, placing in the top three at numerous tournaments. They competed on May 17, qualifying them for state. 
Aside from the athletic side of the school, the other clubs have represented Alliance well. The AHS band and jazz band, choir, speech team, one-act, musical, journalism and academic decathlon performed well. This year, the district music contest was hosted in Alliance. The bands from Alliance got ones – superior ratings. On the vocal side, the Velocity choir got a three and the Harmonics choir received a two. Related to vocal activities is the speech team. This team medaled at many meets and had members of the team who medaled at districts. Jayden Moomey received 4th, Julia Wilson received 6th and Saphina Achi received 7th. 
Here in our high school, we are also provided the opportunity to be a member of one-act or the musical. One-act consists of members who are willing to go in front of their peers and put on a short skit. This year there were various members who received the "outstanding performer award." And while musical may not be a competition, the cast put out an amazing performance for three nights in a row. Lastly is academic decathlon. The participants in academic decathlon travel to scrimmages and compete against other school districts to see who knows the most. This year, Shaylee Messersmith was the top scorer at Alliance with 2,140 points.
In the class where all of your school's stories come from came some amazing writers. The journalism class provides students with news anywhere from types of pasta to sports stories. This year, two students had work that qualified them for state. These students were Horton and Chloe Mann. Mann qualified in Editorial Cartooning, and Horton qualified in Editorial Cartooning and Editorial Writing. These girls traveled to Lincoln where they had to create new work on the spot. Chloe Mann placed 7th place for her cartoon, and Horton placed 2nd for her cartoon and 5th for her writing. 
This year has been full of ups and downs, but the students at AHS showed that they could get through it, and they did it with many wins. Though this year is coming to a close, next year is always an opportunity to show what we students have. Have a safe summer and I'll see you again next year!
About the Contributor
Brooklyn Branstiter, Editor
Hey, everyone!! My name is Brooklyn Branstiter, I am a senior at Alliance High School. I am the 16 year old daughter of Aaron and Shauna Branstiter. My...