Hidden Heroes: Part Two
Hidden Heroes: Part 2
There are a lot of things going on at one time within the walls of Alliance High School. All of the projects, sports and announcements have to be run by somebody, and it is no easy task. The secretaries here at AHS do not get enough credit for all of the hard work and dedication that they put into their jobs.  A new secretary was hired at AHS just about a month ago.
Izzy Thompson is the new secretary here at AHS. She has worked here for about a month, and her favorite part of her job is, "Just seeing all the students I would say, and talking to people, I like to talk. " Thompson does a lot of work in the office of AHS. When asked what some of her duties were she replied, "Well, I am the secretary of sports, so any of the athletic stuff comes through my desk. And then I also do the student attendance, you know talking to parents, [and] whatever else might need to be done. Shardel and I kind of both share both of those." Her job is the farthest thing from easy, the office is the busiest place in the school.
Thompson is very caring and fun to talk to. I have been a cadet in the office with her for a month and have enjoyed getting to know her. I asked Thompson what her favorite food, color and animal are, and she responded saying, "My favorite food is Mexican food, my favorite color is pink [and] my favorite animals are dogs." She has a husband to whom she has been married for fifteen years. She also has a daughter who is in eighth grade, a son in sixth grade, and her youngest child is in kindergarten. When asked if she had a favorite joke, she responded, "No, because I can not remember any. I have one, but it's only because I can remember it and it's, "what do you call a fish without an eye… a fsh." Thompson also commented, "If anyone ever needs to talk I am here."
The secretaries here at AHS are very underrated workers who make the halls of AHS a kind and welcoming place. Thompson is a new but kind face, who has already done so much for this school. Thank you for all the time and work you put in, you are greatly appreciated. Keep being awesome!
About the Contributor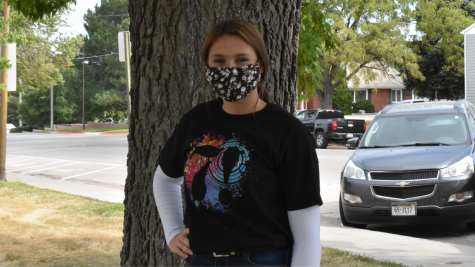 Chloe Mann, Staff Writer
Hello everyone! My name is Chloe Mann, and I am a junior here at AHS. This year is my first writing for the SPUD, and I am so excited about this opportunity!...