2020-2021 Girls Basketball Recap
The Alliance girls basketball team has had a rough couple of years, but this season they made many improvements from last year. With their new head coach, Heidi Manion, the team has high hopes of excelling within the next few years. Olivia Knapp and Keeley Mazanec, seniors this year, were interviewed about the season. They had a lot of good things to say and touched on a few improvements the team could make. Becoming a senior means it is the last year you are participating in sports, and that can be hard for many. The girls had a memorable recap of their basketball season.
Being a senior, coaches expect you to show leadership throughout the season. Knapp incorporated her leadership as well as she could. She commented, "I led by example. I helped younger teammates learn the plays and played my hardest to be an example." Mazanec helped to improve the team in many ways as well. She said, "My role as a senior was to be a good teammate and show the underclassmen how to be a good teammate. I also helped anyone who had questions on something like plays or what to do. I would do my best to help everyone in any way that I could." She went on to say, "Another thing was to stay positive and encourage everyone to keep putting in work. Even though we did not win many games we still saw results. There were many positive things we could take away from each game. There was always something we were improving on." The girls believed that they each learned from each other, and that helped them to develop better habits of playing throughout the season.
Last year, the girl's basketball team had a 0-23 record. They played their hardest, but this still left them feeling bitter about the 2020 season. This season, their goal was to improve in any way that they could. When asked about their favorite memory, both Knapp and Mazanec agreed it was winning their first and only game of this season. The girls ended up with a 1-22 record this year.
Knapp responded, "Finally getting over our losing streak. It was a bigger accomplishment than some people realized." Mazanec went on to say, "My favorite memory would have to be when we beat Hay Springs. We had so much support from the community and it was a big accomplishment. Kevin Horn got the word out on Facebook and said everyone who can be there needs to come because he believed in us and knew we were going to get a win."
Now that the season is officially over, the girls will be reminiscing about their last year playing basketball. Mazanec remarked, "I wish the season could have gone better, but we still made strides and I am confident that next year the team will still continue to improve. The three seniors left a foundation for the rest of the team to keep building on to improve the program."
The support from the community helped to get the girls through another tough season. Both girls wanted to add that this was a hard year, but we all stuck together as a team and got through it. The community was a huge support and always showed up for us when they could. There were many people who helped us get through everything that happened this year and we are grateful for everyone who did.
The SPUD congratulates the girls team on breaking the streak! We can not wait to see what the AHS Girls Basketball team will accomplish next season. Good luck and go lady bulldogs!
About the Contributor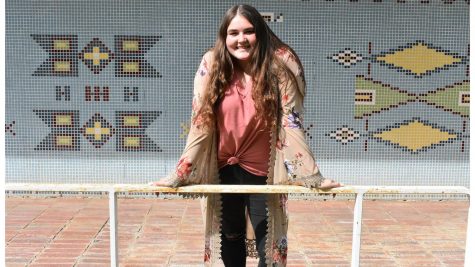 Karly Wangler, Staff Writer
Hey everyone! My name is Karly Wangler, and I am a senior at AHS. I am 17 years old, but will turn 18 in October. I am the daughter of Tim and Jeralee...