Football Wrap Up
The Alliance Bulldogs football team finished up their season in late October. Their final record was 1-7 and there was one game cancelled due to Covid19. They fought hard throughout their season despite the many challenges that were thrown their way.
When asked what the highpoints of the season were, Head Coach Chris Seebohm remarked, "The win over Gering was a definite high point. I felt like we played a full game and executed in all three phases of the game- offense, defense and special teams." He continued saying, "There were many other high points during the season too. It was all of the individual things that we saw as coaches when players stepped up, showed improvement and had great performances."
Senior, Mario Garza explained, "I think for a lot of the guys including myself a high point was just getting closer with each other and making memories one last time." Garza earned numerous awards this year including, All-Conference 1st team, B-4 All-district 1st team, the Foxe Hole Award and Trench Warrior. He stated, "I plan on playing football at the next level but as of right now I have not decided on a school yet."
The most memorable play for Seebohm was when, "In Gering, there was a fumble into the endzone that Jace Moss recovered. That means that Jace Moss scored a touchdown, and there's nothing that lineman celebrate more than if one of their own, the guys that work without ever getting any credit, gets credit for a score." His favorite game this season was the last game. Seebohm said, "I always enjoy senior night where the guys that have given so much of their time and effort get recognized, and at the end of the season, I get to see the bonds that the players have come out when they know they've played their last game as a Bulldog. It's definitely bitter sweet, but you get to see the family aspect of what we build truly come out."
The seniors this year included: Jesus Acosta, Caeson Clarke, Roman Garza, Mario Garza, Keegan Grant, Jaden Kelley, Chase King, Logan Leistritz, Jace Moss, Jaxon Minnick, Jaxon Preble, Zach Tunheim and manager Alex Pfeiffer. Athletes awarded All Conference were Jesus Acosta, Mario Garza, Caeson Clarke, Chase King, Keegan Grant and Kellen Muhr. Those earning the All District Award include Jesus Acosta, Mario Garza, Caeson Clarke and Chase King.
Garza explained that for him, the most memorable game was the Chadron game. He said, "That was the game I had the most pancakes."
The Bulldogs have already started working to improve for next year. Seebohm explained, "The athletes who aren't competing in a winter sport have already been showing up in the weight room after school and they're doing a great job working to get bigger, faster and stronger. We will do plenty of skill work during school in the off-season working on specific techniques each position will need to perform well." He went on to say, "Due to NSAA requirements, I can only work with seven athletes or less. During the summer, we will do more skill work as a team, have camp and scrimmage some other schools. This gets the players ready for the season and gives the coaches some ideas of where our players will end up on the field."
There are many things that the team is excited about for next year's season. Seebohm remarked, "I always look forward to seeing the next group of seniors find the leadership voice inside of them. Also, it is great to see players step into starting and backup roles that they haven't had before and succeed. Besides that, being around the players during the season and seeing them in a different environment other than the classroom always brings out great moments and memories that I'll have of them."
Seebohm stated, "The season doesn't look good according to our record, but anybody that watched our games know we competed hard and were in all of the games we lost. Our players were close to taking the lead and were also close to winning so many games and never gave up. Our seniors led the team well, and all of our players were extremely coachable and did whatever was asked of them." He said, "We had to deal with so many issues, from Quarantines, to injuries, to people playing positions they hadn't before, but the guys handled it with character and pride." Garza stated, "Even though we didn't win as much as we would have liked, I had the most fun playing football than I ever have before."
Throughout the season, the dawg pound, band, cheerleaders and fans cheered on this hardworking team. We are proud of what they accomplished this year and can't wait to cheer them on next year!
About the Contributor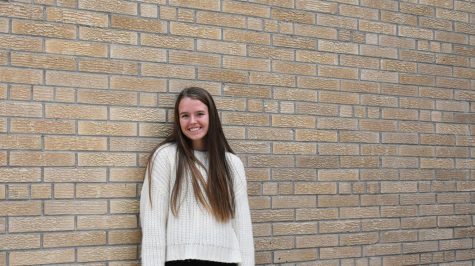 Shelbee Burke, Web Editor
Hi! I'm Shelbee Burke, a junior at AHS. This is my second year writing for the SPUD. I am the 16 year old daughter of Tom and Gail Burke. I am very active...