2020 Football Preview
With the start of school brings the kickoff of the 2020 football season. The Bulldogs had a rough start this year going 0-2 losing to Mitchell and York. There will be a total of nine games this season, with high hopes of a state playoff game at the end.
Coach Chris Seebohm explained that to prepare for the season, "We condition quite a bit. With the Covid-19 shutdown in the spring, we figured everyone would be out of shape so we've been focusing a lot on that." He went on to say, "[We are also] installing our plays, making sure our base offense and defense is in and then as the season goes on we'll add plays both to our offense and defense to adjust for different teams that we will play." Jesus Acosta, who plays both left guard and middle linebacker explained, "We're all preparing for our games by putting in the work on the practice field and making sure we're executing the plays perfectly." Wide receiver Chase King stated that to prepare, the Bulldogs are, "Watching film for our opponents and ourselves and practicing."
Seebohm explained "We lost a veterned group of offensive line last year. A lot of those guys had been playing since they were sophomores. We have a lot of people on the line stepping up for the first time and I know they'll do a great job." He went on saying, "We're just trying to figure out how the new starters are going to replace the old starters and how the team is going to blend as a whole. This is something that changes from year to year."
While there are less returning starters than last year, the returners this year are skilled, experienced players. Seebohm stated, "Mario Garza, Jesus Acosta, Kellen Muhr, Chase King, all of those guys did a great job last year so it's great to have them back. Caeson Clarke is back, but he's starting as a quarterback instead of being a wide receiver like he was last year." He noted, "It's always fun to see how the juniors step into leadership roles as seniors and is something I look forward to every year."
Though the team lost their first two games, they are still practicing hard and putting in work for the remainder of the season. Their schedule this year is not an easy one but the Bulldogs are preparing for the battles ahead. When asked who he anticipated to be the biggest competition this year, Seebohm said, "Scottsbluff, obviously, going to the state finals last year will be tough. McCook is tough year in and year out while Grand Island Northwest is a playoff contender every year and Lexington made it to the playoffs last season. Our schedule as a whole is very difficult this year and so we have plenty of tough competition on the horizon."
Due to Covid-19, there are new precautions that must be met, such as players' temperatures being taken every week. Seebohm also explained that the state is putting together a pool of teams that have gotten a game cancelled due their opposing team having a positive Covid-19 test and will schedule new games for these teams. These will be no contest games however, will be a good chance for football players to get experienced and the chance to play. Seebohm noted this is "Definitely something I've never come across in my coaching career and it's something new that everyone is trying to figure out."
When asked what he was most excited for this year, Acosta remarked, "First of all, I'm really grateful and blessed we are able to have a season. Second of all, and I think I can speak for most of us, we're all ready to play football and play our hearts out every game. I love the adrenaline and I'm excited to make memories with my teammates and have fun doing it. I'm excited for me and others to lead our defense and just really expect us to make a deep playoff run." King said, "I am excited for all of the home games we have this season. It is fun to play in front of our hometown fans."
There are various players this year who will play important roles for the team on and off the field. Seebohm explained some of these players saying, "Caeson Clarke is definitely a key player at our quarterback. Chase King has already had a great game and has done a great job in the past as a wide receiver, so I look forward to watching him. Kellen Muhr had an interception in our first game and led us in interceptions last year so he's doing a great job." He continued saying, "On the line, the guys that don't get noticed very often, Mario Garza is a very good offensive lineman. If you look for the big guy down there that's blocking people all over the field you'll see Mario. I want to give him credit when there's not a lot of notoriety in the papers to start with."
Players and fans are excited for the rest of the season to unfold and hope the current pandemic does not affect games. The SPUD wishes the Bulldog football the best of luck!
About the Contributor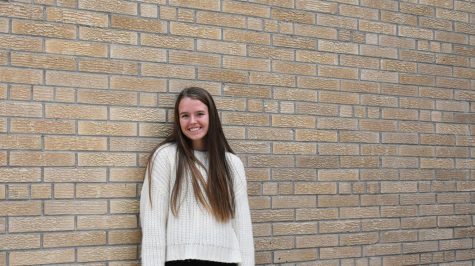 Shelbee Burke, Web Editor
Hi! I'm Shelbee Burke, a junior at AHS. This is my second year writing for the SPUD. I am the 16 year old daughter of Tom and Gail Burke. I am very active...