Collegiate Comeback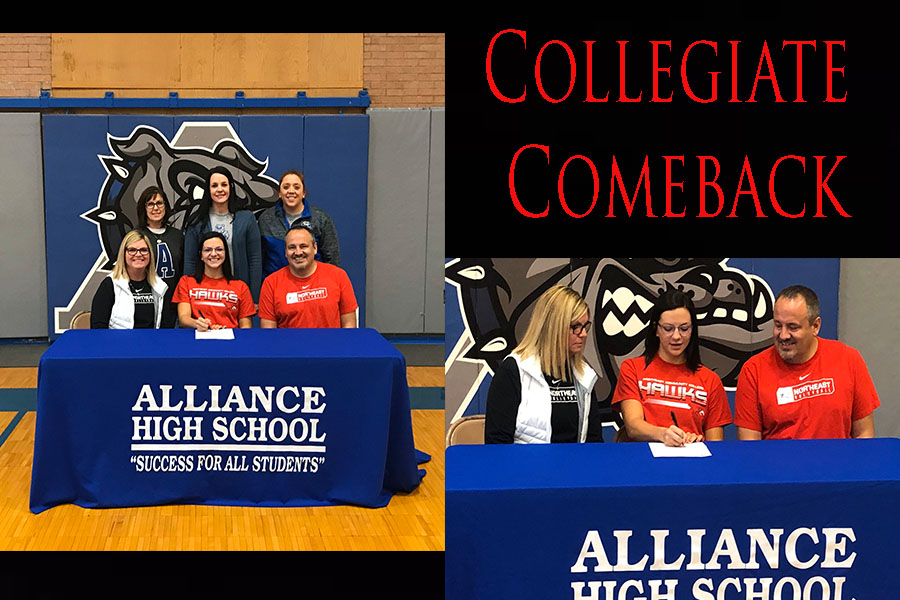 Playing multiple sports has many benefits and can aide in athletes getting noticed to play at the collegiate level. When injury, an athlete's nightmare, occurs, this can cause a setback in playing any sports at all. It can be an added frustration if it occurs in a sport that is not your passion. Getting injured is something no one wants to happen and it can occur at the most unfortunate times.
AHS senior, Payton Weber, tore her ACL and meniscus during a basketball game in Gering the summer before her junior year of high school. She explained, "I was guarding someone and my knee just bounced up and down and then it went out." She had surgery on her knee on August 1, 2018. She continued to say, "they say it takes you 6-9 months to recover, so it took me a long time and that was hard for me because I knew I'd be missing volleyball. I tried to stay really positive with myself and tell myself that that happened for a reason." She remarked that she knew she needed to "be motivated, be a good teammate and to help my friends as best as I could since I couldn't be on the court."
Weber did not let this injury stop her and was determined to do what it would take to get back to playing as soon as she could. She expressed, "For the first couple of months after the surgery, I had physical therapy three times a week, so I was there all the time and it was so hard." She went on to say that the physical therapists would make her do exercises and stretches that would sometimes make her cry. She explained that this sometimes was because they would push her knee to bend all the way or straighten all the way. She asserted, "after doing simple exercises I started jumping and then running. I started lifting weights and I couldn't graduate physical therapy until my left leg lifted as much as my right leg." She stated that she felt as if that helped her with balance.
Weber came back from the injury her junior year strong. She was able to participate in track that year and did well enough to make it to state in the 400 meter run. Her senior year she started varsity in volleyball and basketball. Weber also tied the record for second place in hang clean with 170 pounds and even became the new record holder in squat at 280 pounds. Despite the injury she faced, she worked hard to get back and become better than ever.
Weber said that she was looking to play volleyball at WNCC when one day Northeast's Coach Schultze texted her explaining that she got her number from Makayla Davidson an AHS alumni, and had talked to Weber's coach and would like for her to come visit the school. Weber stated, "when I was visiting there, I was touring the locker rooms and then they said, 'Just so you know, we're offering a scholarship' and so I got offered full tuition and fees to attend." Weber officially signed to play for the Northeast Hawks on Friday, February 21.
Weber remarked, "The most influential player in volleyball to me and someone I look up to would probably be Ryley [Rolls]. She didn't really get all the glory and she always had Emerson [Cyza] in front of her, kind of like how I had Jordan [Hopp] in front of me." She went on to say how she looked up to Rolls' ability to stay positive and how she was able to show for herself through her hard work.
Weber noted, "I'm nervous because it's a lot different and they say the coaches are harder on you and that it consumes your whole life and it changes sports for people, so I hope that doesn't happen to me." She went on to say, "but I'm really excited because I'll get to play with new people in a new environment and in new places."
Weber was a key contributor to the AHS volleyball team. She was continuously positive on the court and was able to be a leader on the team in many different aspects. She was able to stay focused and do what needed to be done on the court to help the team find success.
Payton Weber was a 3-year letter winner at Alliance High School and has been playing volleyball for seven or eight years. She will be going on to play at Northeast Community College as an outside hitter. She remarked, "I'm thankful that I had teammates and coaches that are all behind me supporting me and I can't wait."
About the Contributor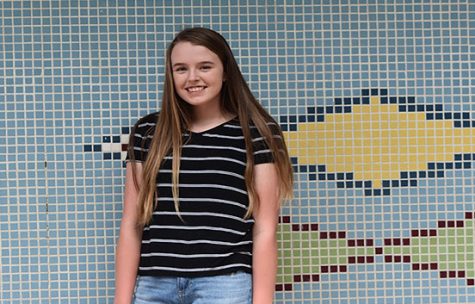 Shelbee Burke, Staff Writer
Hi! I'm Shelbee Burke, a sophomore at AHS. This is my first year writing for the SPUD. I am the 15 year old daughter of Tom and Gail Burke. I am very...