Cheer Tryouts 2019
Hang on for a minute...we're trying to find some more stories you might like.
As we near the end of the 2018-2019 school year, it can mean many different things for AHS students. For some, it might be just wanting the school year to be over, but, for others the next school year is already getting started.
From March 18 to March 22 girls eighth through eleventh grade compete for a spot on the AHS cheerleading squad. Competing for a spot includes learning jumps, dances, cheers, and fundamentals, or the basics of cheer in three days of practice, and then on the final day they are able to put it all together for tryouts.
The tryout consists of the girls performing two jumps, toe jump and jump of choice. They must also perform two cheers and a dance for a panel of judges. These judges were all either formal AHS cheerleaders or coaches. In addition the girls are judged on sharpness of moves, voice, spirit and overall judge's impression.
"My first year was pretty scary. I obviously didn't know the fundamentals and the jumps well. Every year becomes easier and easier for me though. Tryouts are pretty fun and getting to know new girls. Every year there's a few girls who try out and you never think they would try out and they are actually pretty good!" Said AHS junior, and upcoming three year cheerleader, Payton Gomez.
Gomez went on with some words of encouragement, "If a girl is not sure about trying out, they should still come and check it out. It's so much more work than I thought it would be, but it's totally worth it. I've made so many friendships that will last a lifetime and trying out was the best decision I've ever made!"
Members of the 2019-2020 AHS cheerleadig squad include:
Seniors : Maycee Quick, Payton Gomez, Brionna Schafer, Tabetha Stanec, and Crystal  Garza.
Juniors : Chloe Blumanthal, Calystra Trevino, Kaitlyn Shultz, McKenzie Robinson, Diana Kollars, and Carly Tscacher.
Sophomores : Riley Lawrence, Jessyca Garza, Cyanne Voigt, Emmarae Korte, and Vincenta Flood.
Freshman : Peyton Kindred and Maribel Carillo.
Congratulations to the 2019-2020 AHS cheerleading squad!
About the Contributors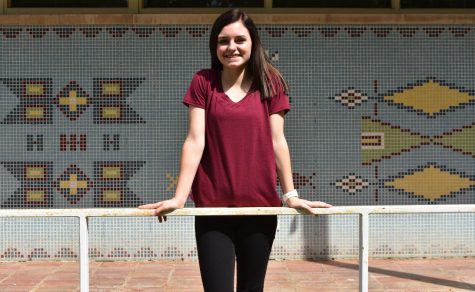 Nikki Haller, Staff Writer
Hi everybody! I'm Nikki Haller. I am a sophomore at AHS and this is my first year writing for the SPUD. I am the 15 year old daughter of Tonya Haller and...