Eight to State: State Wrestling 2018
Hang on for a minute...we're trying to find some more stories you might like.
On the weekend of February 9 and 10, the Alliance High School wrestling team competed in districts, advancing eight wrestlers into the state tournament. Two freshmen, two juniors, and four seniors made their way to Omaha to compete on Thursday, February 15. The tournament was stretched out over three days and concluded on Saturday, February 17.
At 106, freshman, Paul Ruff took on the state tournament for the first time. Paul is the son of head coach, Scott Ruff and went into the tournament with a record of 30-4. Ruff finished second in his bracket at districts and there were high hopes for him going into state.
Ruff took home his first match with a sudden victory decision of 4-2. During his second match, Paul fell to a wrestler from Omaha Gross Catholic, but this did not stop him. Paul later competed against a wrestler from York, whom he pinned in less than twenty seconds. However, one match away from medaling, Ruff was pinned in his second consolidation match, marking the end of his freshman wrestling season.
Senior, Evan Steggs, represented Alliance in the 120 pound weight class. Steggs finished in second place at districts, making him one of the highest placing members of the team. Being ranked second in the state, Steggs felt very confident going in and was ready to battle.
"I expect to win. My goal is to be a state medalist. Not only that, I want to keep bonding with my team because we don't have much time left," stated Steggs, prior to the tournament.
Evan came onto the team as a freshman and has wrestled all four years of high school. He has qualified for state three of four years. Wrestling has had a huge impact on him, and he is constantly reiterating that without wrestling, he would not be the person he is today.
"It is crazy. It feels like yesterday I was strapping up my shoes as a freshman! It's bittersweet!"
Steggs won his first match at state by a 7-2 decision. In his second match, he made his way to the semifinals by defeating a wrestler from Blair, by an 8-1 decision. Going into the semifinals match, Steggs was matched against the number one ranked wrestler from Hastings, Blayne Kile, whom he won against in overtime with a 4-2 sudden victory. In finals, Evan's opponent was Lexington wrestler, Andy Rojas. Rojas previously defeated Steggs in the district tournament, so the match ahead was one that had wrestling fans on the edge of their seats. In the end, Steggs fell to Rojas by a 4-1 decision, making Evan Steggs the 120 pound State runner-up. "It felt good to finally reach my ultimate goal: medal at state," states Steggs.
Freshman, and the first of the two competing Johnson brothers, Asa Johnson, took on the tournament wrestling at 132 pounds. Weighing in at 132 pounds as a freshman is a big deal, as most tend to wrestle 120 pounds and below.
Just days before his first appearance, Johnson stated, "For me, I think being one of two freshmen qualifiers is a big confidence booster. I am pretty excited about my first appearance because this has been a major goal for me, but I am also nervous because I want to perform well at state."
Johnson's bracket for state had him feeling confident; however, he knew his matches were going to provide a challenge for him. "It's going to be tough and there is going to be a lot of nerves, but I'm really excited. One of my biggest dreams is to be able to go into the wrestling room and see my name on the state placers wall."
Being the youngest of four brothers, who have all showed great success at state wrestling, Asa was very excited to give it his all on the mat to really impress his older brothers. Older brother, and fellow teammate, Jorgen Johnson stated, "I hold super high hopes for Asa. He started his career at a much heavier and more competitive weight than I did, so I am already so proud of him and cannot wait to see him grow and watch all of the success he will have."
Asa kicked off the tournament, wrestling Juan Vergara from Wayne. The match ended in a technical fall, with a score of 22-5, in favor of Johnson. Asa then won his second match by a 3-2 decision over Connor Drahota of Elkhorn. Asa's semifinals match was against district champion, Trey Arellano from Sidney. Unfortunately, Asa fell to Arellano by a 9-4 decision, sending him to the wrestleback brackets to wrestle for third through sixth place. After falling to a wrestler from Beatrice, Asa went on to wrestle for fifth place. After three minutes and thirty-six seconds, Asa pinned his opponent and became a fifth place medalist.
"I am proud of how everything worked out and I feel that my future in wrestling is very bright," says Asa.
Next in line to represent Alliance was the second Johnson brother and senior, Jorgen Johnson, weighing in at 145 pounds.
At districts, Johnson was forced to medically forfeit his third place match. Just days before State, Johnson opened up about his injury. "There is only one thing to do, and a few days to do it. So I am exhausting all avenues of treatment and I'm going to fling myself fully at the task ahead. I am trying to keep a positive attitude and know that my body will be willing to give me four more high school matches."
His younger brother, Asa, pitched in, "It makes it [the tournament] easier in the way that I can look to him for advice and he's there to guide me, but it's also kind of stressful because he had a really rough time at districts and I want him to be really successful at state. I hope he gets better and comes back to win state."
However, once Johnson was on the mat, nobody could have guessed an injury had plagued him just days before. Johnson defeated his first opponent by a 16-4 major decision. From there, he advanced to the semifinals, by a 5-1 decision over Stone Mendez from Omaha Skutt Catholic. In his semifinals match, Johnson faced off against Caleb Ackles of Adams Central. Johnson advanced to the finals, getting the pin on Ackles, after four minutes and fifty-eight seconds. The win was a big deal for Johnson, as in previous years, he had always lost in the semifinals match.
In finals, Johnson went up against undefeated Scott Fulsos of York. The match went through three full periods, and in the end, Johnson fell to Fulsos by a 9-4 decision, making Jorgen Johnson the 145 pound state runner-up.
"I'm thankful for all of the support we received while we were down there and [I'm] super proud of everyone. We had a lot of obstacles to overcome and I think we did great," says Johnson.
Junior, Brayden "Boone" Wilson headed to Omaha, weighing in at 152 pounds. Wilson believed he had a tough bracket for state, including a three time state champion, but he determined that he would not let that affect how he wrestled. "I won't stop moving and I'll keep fighting until the end of the match," said Wilson.
In his first match, Wilson fell to Kaleb Canoyer of Waverly, putting him in the wrestleback bracket. However, Wilson's time in the tournament was cut short, as he fell to a wrestler from Crete by a 5-3 decision.
Senior, Lane Applegarth wrestled at 160 pounds. Applegarth has had a very successful senior season with high achievement, such as reaching his hundredth win. Lane entered the competition with his head held high and his hopes going in were to make the town of Alliance proud.
In Lane's first match he fell by a 2-0 decision. Unfortunately, his second match did not go in his favor either, and after a hard fought match against Isaac Hernandez of Schuyler, Lane's senior wrestling season was over.
Lane expressed his feelings on state, saying, "I failed. It was embarrassing, but it showed me the people that love me independent of results. I wrestled my worst tournament of the year, but it happens. I'm glad my team performed so well. I love them like brothers. I cried more for Steggs than I did for myself: that's love. That's something special that I will carry with me all of my life."
Despite the turnout, the town of Alliance embraced Lane for his good sportsmanship and marked him a true inspiration to everyone he crossed paths with. He may not have come home a state champion, but Applegarth will forever be known as "The People's Champ", due to the fact that he always wrestles for a purpose bigger than himself.
Junior, Baily Hood weighed in at 220 pounds. Baily is a third generation state qualifier, following in his grandfather, Bob Hood, and his father, Rob Hood's, footsteps. "It makes me proud to keep up the tradition. I am just going to go out there and do what I do best," stated Hood.
Baily has battled various injuries throughout his career, but has not let that stop him. "I have always kept a positive mindset. That has always been apart of the process. I kept telling myself that God has a plan and I had to keep going."
Hood fell in his first match to a Seward wrestler sending him to the other half of the bracket. However, things looked up for Hood and he won his first consolidation match, pinning his opponent just forty-five seconds in. However, after a hard fought battle, Hood fell in his second.
Baily expressed his gratitude to the community of Alliance, his family, friends, and coaches for all of their support this season!
Last but certainly not least, senior, Nathan "Big Nay" Lauder, took on state for his second and final time weighing in at 285 pounds.
Lauder joined the wrestling team as a sophomore, after being recruited by Coach Ruff. At the wrestling send off, Ruff made it a point to joke about how Lauder only knew two wrestling moves at his first practice, but Nathan has shown obvious improvement on the mat since.
Lauder has now qualified for state twice, the first time being his sophomore year. Last year, qualifying eluded him, but he never let that discourage him. "It made me better. It taught me not to expect anything and if I want something, I am going to have to work for it… Without last year, I do not think I would have learned as much or worked as hard to get to where I am," shared Lauder.
Looking at his bracket, Nathan believed that if he won his first two matches at state, he will be sitting exactly where he would want to be. Lauder's first match was won by a 13-2 major decision. His second match put him against a wrestler from Wayne and Lauder took it home and advanced to the semifinals, after a 17-4 major decision win. In the semifinals, Nathan's opponent was Noah Starfursky, the B1 district champion, with a record of 41-3. This record did not intimidate Nathan; he defeated Starfursky by an 11-5 decision. The 285 pound finals match pinned two panhandle wrestlers against each other. Nathan Lauder went up against Garrett Nelson of Scottsbluff. After three periods, Nelson came out on top by a 7-3 decision. Nathan Lauder became the 285 pound state runner-up, bringing home Alliance High School's third second place medal.
Lauder looks back on his decision to join the team and says, "I'm glad I chose the route I did sophomore year. I learned a countless number of lessons about more than just wrestling and I'm glad I got to do it with my brothers."
With the end of the State Tournament, comes the end of wrestling season. Alliance High School brought home three second place medals and one fifth place medal. Eight great wrestlers were sent to state and half came home medalists. We cannot wait to see what next season brings! Congratulations, wrestlers!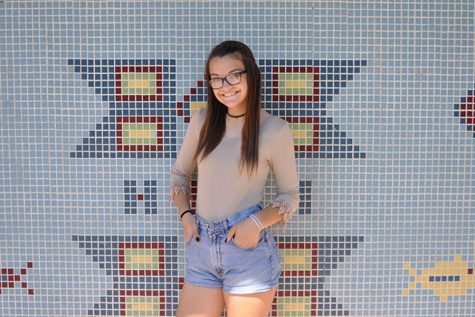 Safyre Yearling, Co-Editor-in-Chief
Hey Spud buds! My name is Safyre Yearling! I am the 17 year old daughter of the late Amanda Preiss and Lance, and my amazing mother figure, Mandy. I am...