AHS Girls Basketball
Hang on for a minute...we're trying to find some more stories you might like.
This year the high school girls basketball team has a new basketball coach, Kurt Zadina. His assistant coach, Heidi Manion, is also the Head Coach of the junior varsity team. Manion has coached girls basketball for twenty years at Alliance High School and has been the assistant coach for five different head coaches. Manion says, " I have learned from all of those coaches and they helped mold me into the coach that I am.  They have all had similarities and differences that have allowed me to see things that I could use in my own coaching style."
This year the junior varsity has 15-20 games depending on tournament schedules. Manion says, "My goal is the same every year for teams that I coach.  I want those players that I work with to be better people at the end of the season than they were at the beginning.  Athletics is a fantastic way to teach young people about more than the game they are playing.  It's important to me to have my players learn something that they can take with them after they finish high school.  If we work as hard as we can every day and do things the right way the score of wins and losses will take care of themselves."
Starting senior, Makayla Davidson, also has goals for this season, "Of course we all want to go to state and win, but right now I want to focus on having a great record so we can be seeded well in the district final."
The girls basketball team is known to have great team dynamics. The five seniors have been playing together since fifth grade, and the juniors fit right in with the style of the plays that the seniors like to run. Makayla expressed her frustration about having a new coach for the third time, "It seems like every year I have to prove my skills again instead of having a coach that just knows what I can do. Learning a new coach is hard too because they all have different rules. I feel like the seniors really have to be leaders." For the five seniors this is their last season of basketball at Alliance High School. Makayla states, "Unlike volleyball, I don't get to play this next year. AHS basketball has given me 4 years of good memories and I will never forget the friends I made from the team. I already know there will be water works after my last game. Basketball has been a part of me and my family since I was old enough to dribble, I don't want it to ever end."
Each girl is getting prepared for the games to come and will be ready for a dog fight. Overall the girls basketball team is 3-1 at the beginning of the season and people are rooting them on to make it to state. Go bulldogs!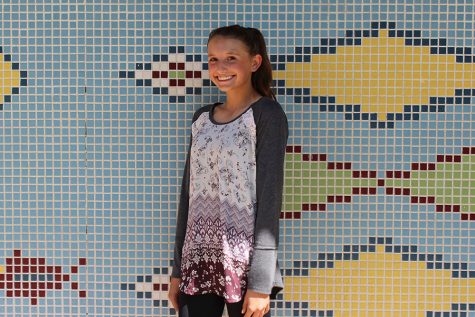 Taylor Manion, Staff Writer
Hi! I am Taylor Manion. I am a sophomore at Alliance High School. I am the daughter of Meagan and Klete Shrewsbury and Boone and Jessica Manion. I have...