Homecoming Away From Home
Have you ever wondered what Homecoming in other countries is like? Well at least for Germany the answer is easy: There is no spirit week, no homecoming football game and no homecoming dance. So,  I have never seen anything like it and the entire homecoming week was pretty exciting for me. 
First of all, dressing up during the week was really fun. My favorite day was the "Sleeping Beauty" day because there is nothing better than wearing your pajamas all day. I really wish we had a dress-up week with all of the fun activities in Germany, too!
I also enjoyed the Homecoming football game because it was the first time I have ever seen one of our teams win. In Germany, we don't have any school sports, so it's really fun to see everyone so spirited over the Homecoming game. The only downside of the game was the cold. It was about 20 degrees Fahrenheit, which is already as cold as the deepest winter in Germany and it is only October!
On Saturday I went to the dance. Getting ready and seeing everybody all dressed-up was pretty fun and I also really enjoyed the actual dance. I had so much fun dancing with my friends and I hate that we don't have anything comparable to this in Germany. The only dance we get to attend is prom, but I have never been to one as it's only for seniors. Prom in Germany is also pretty different from here because you go there with your whole family.
So all in all, I had a great homecoming week and school dances are definitely something that should be done in Germany too. 
About the Contributor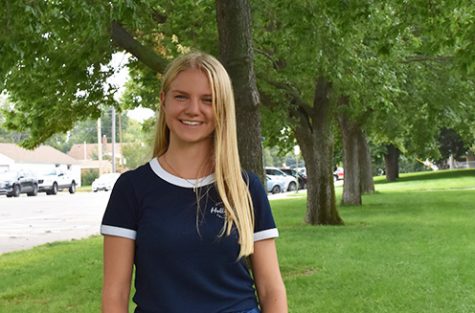 Lara Rieger, staff writer
Hey there! My name is Lara Rieger and I am a foreign exchange student from Germany. My host parents are Holly and Ronald Westemeier and I have a little...