What I'm Leaving Behind
They always say you never know what you have until it's gone. I'm not saying that all of these things will no longer be a part of my life, but I will not be around them as often as I want when I leave for college. There are so many people, animals, events and other activities that I will be missing as soon as I start my next journey. It is extremely hard to talk about the many things seniors this year will be leaving behind.
For me personally, I believe I will miss my family the most. I know leaving and finding who you want to be as an adult is just part of growing up, but it really is hard. You go from living with these people every day for the last eighteen years of your life to completely being alone. I am looking forward to meeting new people and making new friends, but my heart will always be where my family is. It is not just family either, I am sure a lot of seniors just like me have several underclassmen friends as well that they will be leaving behind. As well as the friends we will be graduating with who are moving to different states and cities to pursue what they would like to do in life. These are the people we have chosen to have in our lives that bring joy to us every day and that we hold close to our hearts. Leaving them behind will probably be one of the hardest things I, and the senior class, am going to have to do.
Another major thing that makes me almost tear up thinking about leaving behind are my animals. Just this year, my family bought a puppy that has completely taken my heart. Her name is MJ. She is my baby and brings so much happiness into our home. Having to live in the dorms the first year of college will not allow me to bring MJ with me. They say that a dog is a man's best friend, and that really is true. The biggest chunk of my heart will have to live at home because of this. 
The hardest thing I will have to leave behind is this town all together. I have learned so much from this town and everything it comes with. It is my hometown, where I grew up, where I found the people that I love, where memories were made every day even if they were small or large. It has taught me the many great things that come with life and that sometimes it can be really hard. The life lessons I have taken away from this little town are incredible. I could not have asked for a better hometown to grow up in. Leaving the city of Alliance and all of the beautiful places, people and memories that are here behind will be one of the hardest things I will ever have to do. So I say thank you to everything this small town has given me. It really is the "Best Hometown in America."
About the Contributor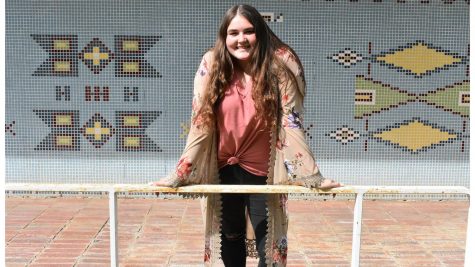 Karly Wangler, Staff Writer
Hey everyone! My name is Karly Wangler, and I am a senior at AHS. I am 17 years old, but will turn 18 in October. I am the daughter of Tim and Jeralee...