Upcoming Music: May 2020
Hello everyone, since it is May, it is finally the last month of school! It is also the beginning of the month which means there is new music from a lot of fun artists such as Kehlani, NAV and The 1975. Let's dive into what these musicians have in store for the month of May. 
Kehlani- It Was Good Until It Wasn't: May 8
Kehlani Ashley Parrish is an American singer, songwriter, and dancer. She was born on April 24, 1995. Kehlani is originally from Oakland, California. Her discography includes three mixtapes, fifty singles and one studio album that was released in 2017. Some songs that Kehlani is known for are "Good Life" "Gangsta" and "Nights Like This." Her new album called "It Was Good Until It Wasn't" is set to be released on May 8. Some of the songs on this album are called "Toxic", "Everybody Business" and "F&MU." Kehlani fans are very excited for what she has in store.
NAV- Good Intentions: May 8
Navraj Singh Goraya also known as NAV is a Canadian rapper, singer, songwriter and record producer from Rexdale, Ontario. NAV was first a producer for Drake then became a solo artist. Some of his popular songs are "Turks" "Tap" and "Champion" His discography includes two studio albums, four mixtapes, seven singles and five other charted songs and nine guest appearances. His new album titled "Good Intentions," is set to release on May 8. Some of the songs are called "No Debate" "My Business" and "Coast to Coast." NAV is a great artist and will definitely not disappoint this go around!
The 1975- Notes On A Conditional Form: May 22
The 1975 are an English pop rock band formed in 2002 in Wilmslow, Cheshire. Now based in Manchester, the band consists of lead vocalist and rhythm guitarist Matthew Healy, lead guitarist Adam Hann, bassist Ross MacDonald, and drummer George Daniel. Their discography includes three studio albums, a live album, five extended plays and twelve singles. The 1975 has won at least two awards, and some of the songs they are known for are "Somebody Else" "Robbers" and "Love It If We Made It." Their new album called "Notes On A Conditional Form" is set to release on May 22. Different songs that are on the album are entitled "People" "Frail State of Mind" and "Yeah I Know." The 1975 is a great band and fans are very excited. 
If none of these albums interested you, here is some other music coming out in the month of May. 
Butch Walker- American Love Story; May 8
Bon Jovi- Bon Jovi 2020; May 15
Charli XCX- How I'm Feeling Now; May 15
About the Contributor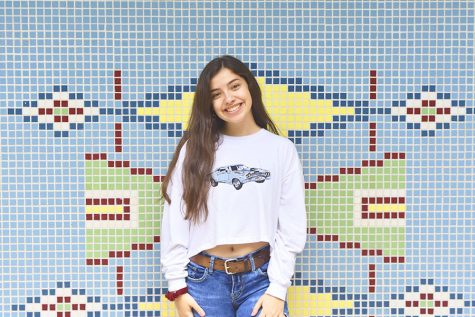 Jessyca Garza, Staff Writer
Hello! My name is Jessyca Garza. I am a sophomore at AHS, and this will be my first year writing for the SPUD. I'm the youngest daughter of Oneyda and...