Social Distancing at the Sandhills Drive-In
After three weeks of social distancing and sitting at home doing nothing, most people are very bored and want to finally be able to leave their houses again. The Alliance location of Geju Theatres, and a lot of other activities are not an option anymore because they have been shut down due to Covid-19. But, not everything is prohibited because of social distancing! The Sandhills Drive-In just opened on April 3 and is starting its season now!
 On Friday, April 3, they played the 1996 classic, Matilda, and on Saturday and Sunday, Ace Ventura: Pet Detective was shown. To get in you have to pay $5.00 per person or $20.00 for cars of four people or more. Gates usually open at 6:30 p.m. and the movies start at 8. Showing up at the last minute before the movie starts is not recommended though, as there is a limit of 60 cars.
In order to follow the social distancing guidelines, movie-goers are supposed to stay in their car and only come with people who live with them. Due to directions by the Panhandle Public Health District, restrooms are not available, but concessions are offered. When you buy your ticket, you will be given a menu for the concessions and then you can text them your order, so they can deliver the snacks you want to your car. Both cash and card are accepted.
Drive-in movie theaters are a very unique experience, especially because the Sandhills Drive-In is still in original condition, which kind of gives you the feeling of being part of an 80's movie. So if you're looking for a way to have a fun time outside your home while social distancing, you should use this opportunity especially because the Sandhills Drive-In is one of the only drive-ins in the state and I'm sure you will have a great time at the drive-in movie theater!
About the Contributor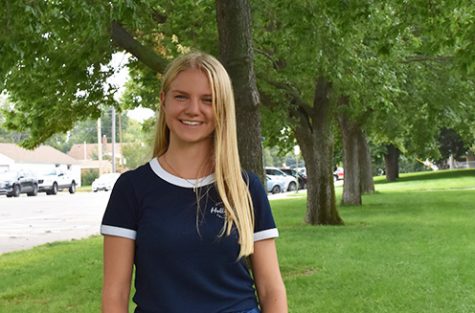 Lara Rieger, staff writer
Hey there! My name is Lara Rieger and I am a foreign exchange student from Germany. My host parents are Holly and Ronald Westemeier and I have a little...