Upcoming Music: April 2020
Hello Everyone! It is finally the beginning of the month which means more opportunities to improve yourself since most of us are sitting at home. One thing that you can improve is your music playlist and add some of this music that is coming out this month on it! Some artists releasing music in the month of April are K Camp, DVSN and Eric Bellinger. Let's take a deeper into what these artists have in store.
K Camp- K.I.S.S 5; April 10
Kristopher Thomas Campbell professionally known as K Camp is an American rapper and songwriter from Atlanta, Georgia. He has released three studio albums, three extended plays, thirteen mixtapes and twenty singles. A lot of people may know K Camp by his famous song "Lottery (renegade)." The track initially had a slow build through platforms including Instagram, YouTube and Triller, but then a few months later users of TikTok pounced on the track. It's since been used in nearly 30 million TikTok videos that have collectively generated more than 3 billion views. His new album "K.I.S.S 5" is set to release on April 10. His fans are excited and K Camp will definitely not disappoint this go round. 
DVSN- A Muse In Her Feelings; April 17 
DVSN (stylized as dvsn and pronounced "division") is a Canadian R&B duo, composed of singer Daniel Daley and producer Nineteen85. DVSN has come out with two studio albums. Their first studio album was released 2016 and it was called "Sept 5." Their second studio album was released 2017 and it was entitled "Morning After." DVSN is now releasing their third studio album called "A Muse In Her Feelings" and it is set to release on April 17. Some of the names of the tracks are called "Miss Me?" "No Cryin'" (feat. Future) and "A Muse." DVSN fans are excited and ready for this new and exciting album. 
Eric Bellinger- Optimal Music; April 24
Eric A. Bellinger, Jr. is an American singer, songwriter and record producer from Los Angeles, California. Eric Bellinger has come out with five studio albums, and his new album "Optimal Music" is set to release on April 24. In 2011, Bellinger won a Grammy in the category of Best R&B Album for F.A.M.E. by Chris Brown. In 2013, Bellinger co-wrote "Lemme See" by Usher, which was named an ASCAP Award Winning R&B/Hip-Hop Song. Some of Bellinger's most famous songs are "I Don't Want Her," "G.O.A.T," "Drive By" and "Type a Way." Eric Bellinger will not disappoint with his new album. 
If you're not interested in any of this music there, here are more music coming out in the month of April. 
Braids- Shadow Offering; April 24
Sparta- Trust The River; April 10
Joe Satriani- Shapeshifting; April 10
About the Contributor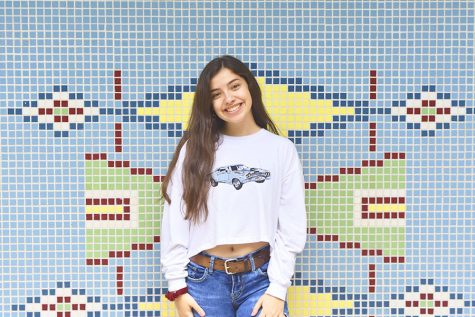 Jessyca Garza, Staff Writer
Hello! My name is Jessyca Garza. I am a sophomore at AHS, and this will be my first year writing for the SPUD. I'm the youngest daughter of Oneyda and...