Upcoming Music: November 2019
Hang on for a minute...we're trying to find some more stories you might like.
It's the beginning of November, and you know what that means one month closer to Christmas and only a few weeks till Thanksgiving! It also means new music from some of your favorite artists. Some of the artists coming out with new music include Luke Combs, Celine Dion, and Lady Antebellum. Let's take a closer look into what the month of November holds for these artists.
Luke Combs: What You See Is What You Get; November 8
Luke Combs is a famous singer and is known for his captivating country music. He was born on March 2, 1990. Luke Combs released 3 EP's (extended play) before he released his first major debut album titled This One's for You in June of 2017. Some of the songs that Luke Combs is famous for are "Beautiful Crazy," "Beer Never Broke My Heart," and "When It Rains It Pours." His new second studio album that is set to release on November 8, 2019 is titled What You See Is What You Get. Some of the songs on the album are: "Better Together," "Nothing Like You," and "Lovin' On You." Luke Combs is a very entertaining country singer and many fans are excited for what is to come. 
Celine Dion: Courage; November 15 
Celine Dion is a famous Canadian singer that was born into a large family from Charlemagne, Quebec. She was born on March 30, 1968, making her 51 years old. Celine Dion has an extensive discography, consisting of: 7 live albums, 26 studio albums, 19 compilation albums, and 25 box sets. Some of her most well-known songs are "My Heart Will Go On," "The Power of Love," and "Because You Loved Me." Her new album named Courage is set to release on November 15, 2019. Some of the songs on her new album are "Flying on My Own," "Lovers Never Die," and "Falling in Love Again."
Lady Antebellum: Ocean; November 15
Lady Antebellum is an American musical group that creates country music. The group was established in Nashville, Tennessee in 2006. The group is made up of Hillary Scott, Charles Kelley, and Dave Haywood. Lady Antebellum has released six studio albums. Some of their most famous songs that they have made together are "Need You Now," "You Look Good," and "Our Kind of Love." Their new album titled Ocean is set to release on November 15, 2019. Some of the songs on the album are "What If I Never Get Over You," "Boots," and "Let It Be Love." Lady Antebellum fans are very excited for what they are going to release. 
Other Upcoming November 2019 Music:
Miranda Lambert- Wildcard: November 1
Girl Ray- Girl: November 8
Bonnie- I Made A Place: November 15
About the Contributors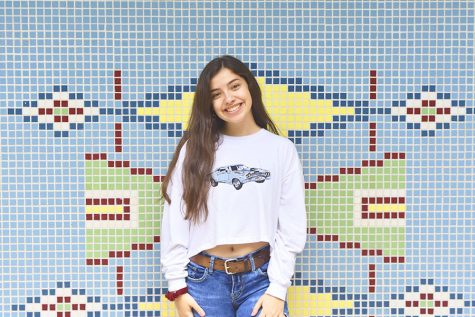 Jessyca Garza, Staff Writer
Hello! My name is Jessyca Garza. I am a sophomore at AHS, and this will be my first year writing for the SPUD. I'm the youngest daughter of Oneyda and...