Spring Break at AHS!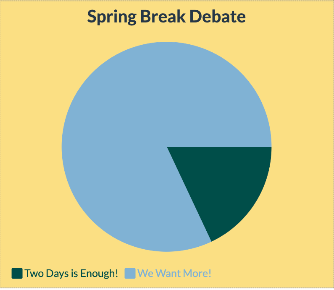 Spring break at Alliance High School is the last break AHS students look forward to, until summer vacation. Spring break has sparked a debate around the halls. I provided a poll for students and teachers and, in total, received one hundred thirty-two responses. Of those responses, 82%, have stated that it is not fair to only have a four day weekend, but much rather have a full week off of school. Their reasoning, "Two days off is not enough time to do anything, we need Mental Health days." Coming from a student, it is respectful of me to agree that school can be tough, especially for those who seem lost and are not the best at school. However, you must understand that it does seem quite unfair that St. Agnes, a private middle school next to the public middle school, gets a full week off for spring break, but not only that, they get out of school before everyone else in town.
The rest of the 18% believe that having two days out of the week off is perfectly fine, and states that if we were to have any longer breaks we would go longer into the school year. While speaking to me of the poll I had sent out, Mr. Stein, principal of AHS, said, "We should be grateful for even having two days off." He also let me know that spring break is not a mandatory break, and it can be easily taken away. I agree that we should be grateful for having spring break at all, but I also do believe that we should take notice of how students will feel on how other schools can get longer breaks and we do not. I cannot speak for my peers, but I do believe that the students should be given a solid reason on these subjects and not be left in the dark and not know the reason why. Without the information, we can be confused and argumentative. If informed, it would be easier for everyone if we were simply told 'Why', and not just for school breaks, but for other activities as well. Let us please have better communication with one another.