Alliance High School Show Choir Competition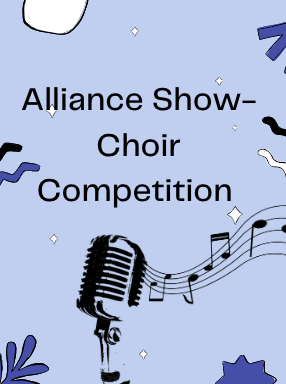 On  February 15th Alliance High School held a Show Choir Competition. Arranging from the schools Bridgeport, Scottsbluff, Mitchell, Gering, and Bayard. The event ranged from 8:30 A.M. all the way to 3:00 P.M. The chores ranged from old hits to new hits! With Scottsbluff placing first in the competition. As the day went by I went around asking different questions to all the schools starting with Scottsbluff.
       I asked Lilly from the Scottsbluff team how they felt with such a strong group. Her response was " It can be challenging but at the end of the day we are all there for each other no matter the consequence." Having a large group when it comes to the choir can bring out the fire but also cowardness. Such as Alliance High School Velocity having the smallest choir group, but the strongest of competitors and singers. Later moving on I approached a Bayard competitor asking their opinion on going against all of the choirs. He stated that "It's scary at first but I guess it's a decent experience." 
         As time went on I couldn't have asked for a better experience. At the end of the day, everyone supported each other, and the choirs came together as one to form a family. I thank Dr. Kloch for allowing me to join Velocity and experience what I have so far. I'd like to wish all the choirs good luck in future competitions!