A ranch kid's perspective on COVID-19
While many students find the "corona-cation" to be quite boring and like there is nothing to do, that is not the case for those who live on ranches and farms. These students are not only keeping up on schoolwork but also helping with chores, animals, and crops as well as other duties.
Sophomores Wade Sanders and Macala Hood are two of the many students that are currently working on their family ranches during this pandemic. Both of these ranch kids do various jobs to help out.
Sanders explained the ranch work he does saying, "On the cattle side of things, the usual calving jobs include feeding hay, checking heavies, occasionally pulling calves, helping tag calves, doctoring sick calves, pairing out, and then moving those pairs out to grass." He went on to say the other work he helps with includes, "mechanicing on pickups or on our tractor and building different projects in the shop go on year-round." Once the summer months come, he remarked that he will help with breeding, haying, fencing, and working on windmills, just to name a few, which then leads to fall weaning and shipping calves.
Hood explained that she has multiple animals to feed every day including, a bottle calf that needs the milk made for her, two female goats that she owns, three heifers that will be shown in 4-H and one fat steer. She said, "I have quite a few chores in the morning"
The cancellation of school has increased the workload these two students have on their ranches. Sanders remarked, "With school being canceled it just means that now I'm around to do all those things consistently whereas before I was maybe only able to help on the weekends." Hood stated, "My grandpa is very happy [my brother] and I are home to help on the ranch. He really appreciates what we do." She went on to say, "All the work that usually gets done during the hot time in the summer is getting done now which really helps the ranch." Hood and Sanders play an important role, working long periods of time while also doing online schooling.
Both Hood and Sanders spend significantly more time doing various chores and jobs than it takes to do homework. Sanders said, "Well it's pretty easy to take a whole day out fencing or taking care of cows in a blizzard or a whole afternoon building in the shop so compared to my homework I'd say about double or triple the time."
Hood explained, "I usually do chores in the morning then around 10 I starts my homework and work until 12 or 1. After that [my brother] and I do work until around 6."
It is sometimes hard for ranch kids to find a balance between work and school. It is especially important for them to prioritize and stay on top of school work. When asked if it is hard to find time for homework, Sanders said, "At first, it was really hard to find any time because we were getting close to a week's worth of assignments from almost every class and our heifers were calving heavy. It seemed like I would leave the house at 8 in the morning and not get back in until 7 or 8 that night, then I'd do my weights workout and work on homework until midnight or 1 the next morning and it'd be the same rotation the next day." He noted, " However when they dialed back and only allowed 2 assignments per teacher per week that really helped and eventually calving slowed down to just a couple calves a day. So now in the mornings I've been getting one or two subjects done then I have the rest of the day to work outside."
When Hood was asked if it is hard to find time for homework, Hood responded, "When calving, really hard. It was kind of hard and with the last storm trying to get everything figured out and what schedule would work best for me. It's important for me to find a schedule that works for me."
Both of these students, and many others who live and help on ranches, have a huge impact not only on their ranches, but also in school, being involved in many activities. We wish the best of luck to those working hard throughout the COVID-19 pandemic, and remember to stay safe!
About the Contributor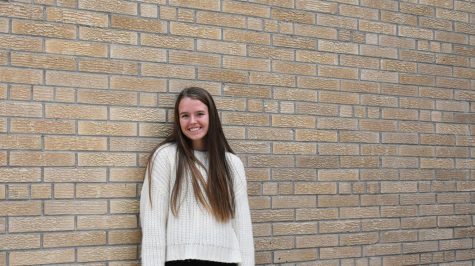 Shelbee Burke, Web Editor
Hi! I'm Shelbee Burke, a junior at AHS. This is my second year writing for the SPUD. I am the 16 year old daughter of Tom and Gail Burke. I am very active...